Hello Everyone!
Welcome to a fantastic total body workout! On the agenda for today I have a Tabata style workout. It's split into five 4-minute sections, with a short rest break in between sections. As always, you will find the workout video and photo tutorial below.
During each four minute interval, push yourself to get in maximum repetitions. There is a lot of research to show that Tabata style workouts have a LOT of benefits. Some of the benefits of Tabata workouts include: increasing lean muscle mass, boosting both aerobic and anaerobic fitness levels, burns fat, boosts your metabolism and is very time efficient.
Doing just one 4-minute round of tabata style exercises will boost your metabolism and fitness level. Today's routine stacks five tabata workouts. Challenge yourself, while listening to your body. If you've been working out with me for a while you will probably be able to make it through all five tabatas. If you are new to working out you might want to pause the video and take longer breaks between rounds, or even do 1-2 Tabatas, and work your way to doing all five.
Here's the thing about exercise: the goal is to make you stronger and healthier. So there is a fine line between pushing yourself to get stronger and build your endurance and going overboard. Learning to listen to your body is one of the most important skills you can develop. So push yourself. You're probably stronger than you think you are.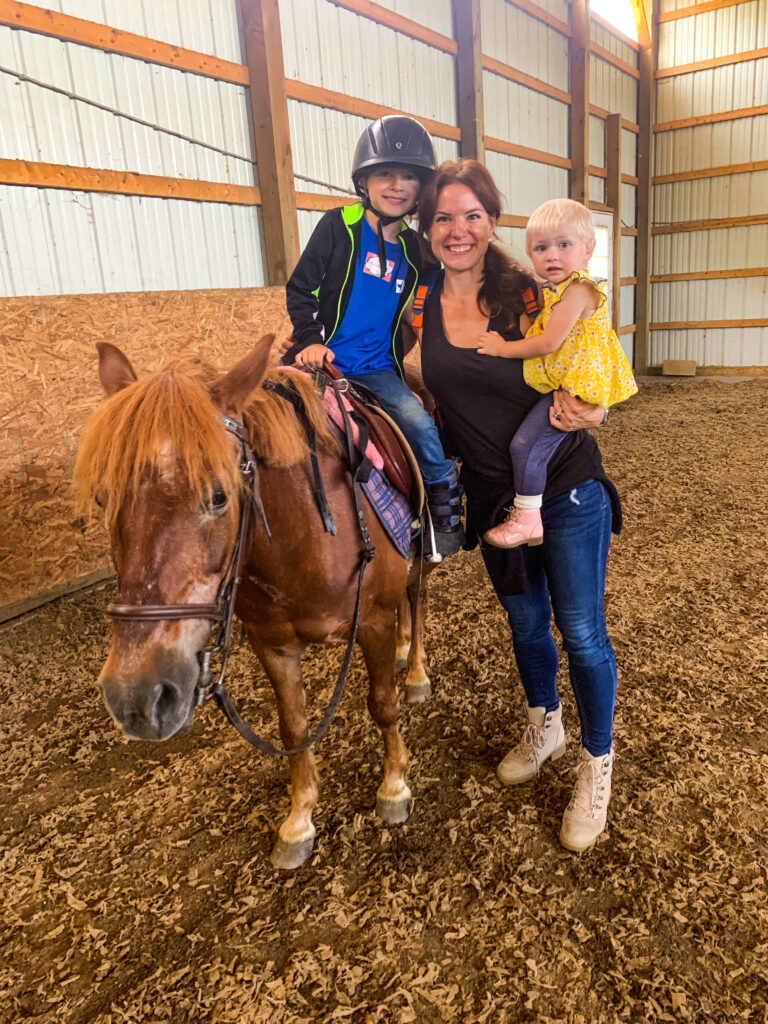 Our family has been staying super busy and active. The kids have done a Mommy and Me Horse Camp, and my son is doing Martial Arts camp. There are a lot of different ways to stay healthy. Time outdoors, engaged in fun activities is one way our family keeps health fun.
I am still posting a lot of new workout tutorials on Pinterest. They have a new creator rewards program, which has been great for us. If you use Pinterest, please head over there and checkout the tutorials I've shared. The best way that you can help keep BenderFitness free is by sharing, liking, commenting, saving and overall interacting with our content.
I hope that you enjoy today's workout. Let me know what you think about Tabata style workouts in the comments below.
Have fun!
Melissa
You can find me on Social Media: @BenderFitness and on Facebook: @MelissaBenderFitness Pinterest: Pinterest.com/BenderFitness
If you want to help support BenderFitness so we can keep bringing you new workouts, your donation is greatly appreciated: https://www.patreon.com/BenderFitness.
Shop BenderFitness Gear: https://my-store-c67ce6.creator-spring.com
Total Body Tabata Workout
Part 1:
1. High Knees 
2. Burpees
3. Lunge Jumps
4. Frogger 
Part 2:
1. Spiderman
2. Temple Tap Abs
3. Side Plank Reach- Right
4. Side Plank Reach- Left
Part 3: 
1. Jump Squat
2. Mountain Climbers
3. Floor Touch Squat
4. Donkey Kicks
Part 4: 
1. Push-ups 
2. Lunge to Hop- Right
3. Lunge to Hop- Left
4. Reverse Plank Leg Lift
Part 5: 
1. X-Jump
2. Ninja Jump
3. Low Jack
4. Surfer