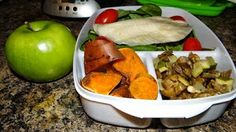 Meal Planning and Meal Prep can be overwhelming for many people. A large part of living a healthy lifestyle is choosing the right foods to fuel yourself with. As they say, As Are Made in the Kitchen.
Supporting your workouts with a balanced diet will help you see results more quickly, and help you Feel Better and Stronger. Your diet does not mean going hungry, it just refers to what you eat. At BenderFitness our goal is to help you foster a healthy attitude toward food. Food is not your enemy, it is the fuel you need each and every day. Let's choose high quality, nutrient dense foods that will help us look and feel our best.
I will be adding links to new Diet Articles here as I add them. You can also find links to additional articles on my site via the search bar, or the Diet Tab in the word cloud.