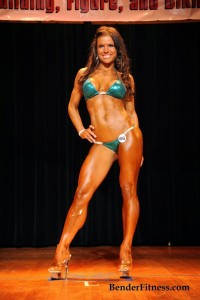 Hi Everyone,

Since competing in my first NPC Bikini Competition and sharing my training here, I have received a lot questions about my diet.

There are a lot of scary and dangerous diet plans out there, especially when it comes to the world of fitness and physique competitions. People often go to extremes to get the physiques that you see on stage.

I used a completely different approach to my diet and training than you typically see. I never stepped foot in a gym, and did all of my workouts at home. Also, the lowest my caloric intake ever went was about 1800-1900 calories per day. That is lower than my normal calorie consumption, but not dramatically. I averaged between 1900-2000 calories per day over the course of my 12 week prep. Some days my calories were 2200-2400.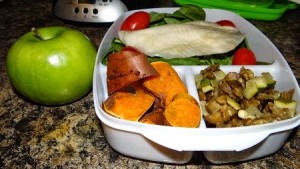 Lunch packed for work:
Tilapia, fresh baby spinach, tomatoes.
Sweet Potato, zucchini, squash, eggplant.
Granny Smith Apple.

A diet is not necessarily about restricting calories, it's about determining what type of fuel your body needs. I was never hungry during competition prep. When I stepped on stage I wasn't drained, I felt healthier and stronger than ever.

The biggest change I made was cutting out sweets for the last 6 weeks. I satisfied my sweet tooth with healthy options like fruit, and recipes like this one: Peanut Butter Oat Stuffed Baked Apples. I also cut out my french vanilla coffee creamer, and used Almond/Coconut milk instead or a homemade clean coffee creamer.

I have shared my meal prep, grocery list, and a typical day of meals during my competition prep.

I also logged a majority of my meals during competition prep. I am sharing some of them below. *I logged my food at the end of the day instead of pre-logging because I wanted to be sure I was following my bodies hunger signals and not getting to caught up on the numbers.

You will see that my diet stayed consistent throughout my prep. I did not carb deplete, but I did focus on getting a lot of my carbohydrates from vegetables.

If you are preparing for a competition please remember to focus on keeping your body healthy throughout your prep. Your diet should be individualized to your needs, but you should never feel like you are starving. Food is nourishment and fuel for everything you do.


Example 1 (5 days Out from Competition):


Breakfast:
Coffee with Organic So Delicious Unsweetened Coconut Milk
100 Calorie Whole Wheat Flat Bread Roll
1 Large Egg
Fresh Baby Spinach (on my egg sandwich)
AM Snack:
Fruit and Nut Trail Mix Bar

Lunch:
2 Cups Baby Spinach with 5 Cherry Tomatoes
2 Cups Baked Spaghetti Squash
4 oz Boneless Skinless Chicken Breast
2 Stalks of Celery with Smucker's Organic All Natural Peanut Butter (2 Tbsp)
1/2 Cup Black Seedless Grapes

PM Snack:
Green Smoothie (This recipe minus the kiwi: She Hulk Smoothie Recipe)
Included:
1/2 cup almond milk
1/2 cup coconut milk
1 cup 0% Greek Yogurt Plain
2 cups spinach
1 tablespoon almond butter
1/2 Banana

Dinner:
Quinoa Vegetable Pilaf (Quinoa, spinach, cherry tomatos, eggplant, zucchini, onion, tomato, extra virgin olive oil)
Boneless Skinless Chicken Breast with 1 tablespoon cream of chicken soup


Example 2: (2 Weeks out from Competition):
Breakfast:
Coffee with Unsweetened Vanilla Coconut Milk
2 Slices Ezekial Bread with 1 Egg and Baby Spinach
Plain 0% fat Greek Yogurt mixed with 2 tablespoons of PB2
AM Snack:
Fit and Active Double Chocolate Protein Meal Bar
Lunch:
4 oz Boneless chicken breast
Fresh Baby Spinach with Cherry Tomatoes
5 Stalks of Asparagues (baked with olive oil)
1/2 Acorn Squash (baked)
2 oz baked sweet potato
Granny Smith Apple
After Work Snack:
1 Slice Ezekial Bread
2 Tablespoons Smucker's Organic Natural Peanut Butter
Dinner:
4 oz baked Chicken
2 oz baked Tilapia
Zucchini sauteed in olive oil
Sweet Potato Chips
Example 3 (4 Weeks Out for Competition):
Breakfast:
Coffee with Unsweetened Almond Milk
Egg Sandwich on Whole Wheat 100 Calorie Flat Bread
Spinach
1 tablespoon of hummus
AM Snack:
Kashi Dark Chocolate Coconut Granola Bar
Protein Muffin
Lunch:
Salmon Salad with Baby Spinach and cherry tomatoes
Granny Smith Apple
Greek Yogurt mixed with Almond Butter
After Work Snack:
Ezekial Bread with almond butter and half of a banana
Dinner:
Tilapia in a Whole Wheat Tortilla with Greek Yogurt (in place of sour cream)
Baby Spinach
Salsa
Sweet Potato Tortilla Chips
Example 4 (8 Weeks Out from Competition):

Breakfast:
Coffee with Unsweetened Coconut Milk
Maple Brown Sugar Oatmeal with fresh Walnuts
Fit and Active Chocolate Peanut Butter Protein Meal Bar

AM Snack:
1 Slice Whole Wheat Bread
1 Tablespoon Smucker's Natural Peanut Butter

Lunch:
Crockpot Spinach and Tomato Chicken 1.5 cups
Walnut and Spinach Salad
Granny Smith Apple

After Work Snack:
Peanut Butter Greek Yogurt with dark chocolate chips

Dinner:
Sushi (A mixed combination)

After Dinner Snack:
Almond Coconut Milk
Crunch Cranberry Almond Multi-grain cereal (1 cup)