Hi Everyone!
Welcome to today's workout! I hope you are ready for a great Total Body Exercise routine. This workout is Low Impact. That means no Plyometrics/Jumping. It's a quiet, apartment or hotel room friendly workout routine. It's also very effective. You can find the full length workout video, and photo tutorial for the workout below.
I worked up a great sweat during this routine, and I think you will too. If you are looking for a more intense version of today's workout you can do High Knees or Jump Rope during the Cardio Intervals. Remember, there is always a way to modify your workouts to fit your needs.
One round of this workout will take 30-minutes. I went through it once, but if you are looking for a longer workout, you can repeat it, or pair it with another routine.
Below you will find the full length workout video and workout breakdown, as well as a photo tutorial of each exercises.
Life Update
I have been struggling to establish a consistent routine for exercise and filming. As a result, I feel like I am not at my most fit or healthy. It can be really easy to get down on yourself when things aren't going your way and unfortunately that's how I have been feeling.
Until I needed to go to my mother's house and get boxes out of her attic. I'm an avid reader and I have been storing huge boxes of books that I saved since middle school and up through college. As I carried heavy box after box down two flights of stairs, outside and up the road to my parking spot I realized something. I wasn't even out of breath. When I got home from my mom's house my husband was picking our son up from karate so I unloaded the car and carried everything in by myself with no problems. The next day I wasn't even sore.
That experience was the exact reminder that I needed. I don't work out to look a certain way, I work out to be strong, healthy and ready to be present and participate in my life. And even though I might not be at my strongest or fastest at this moment in time, I am incredibly healthy and able to participate in my life without limitations.
The last time I moved those boxes of books I was in my 20s, I had help, and I remember it being exhausting. This time, I did it alone and handled it easily. If you get down on yourself for being in a part of your life where consistency is challenging just do your best. Then remind yourself that all of the work you've put in has made you stronger, healthier and more capable. Recognize what you are able to do and how your life has improved functionally and keep moving forward.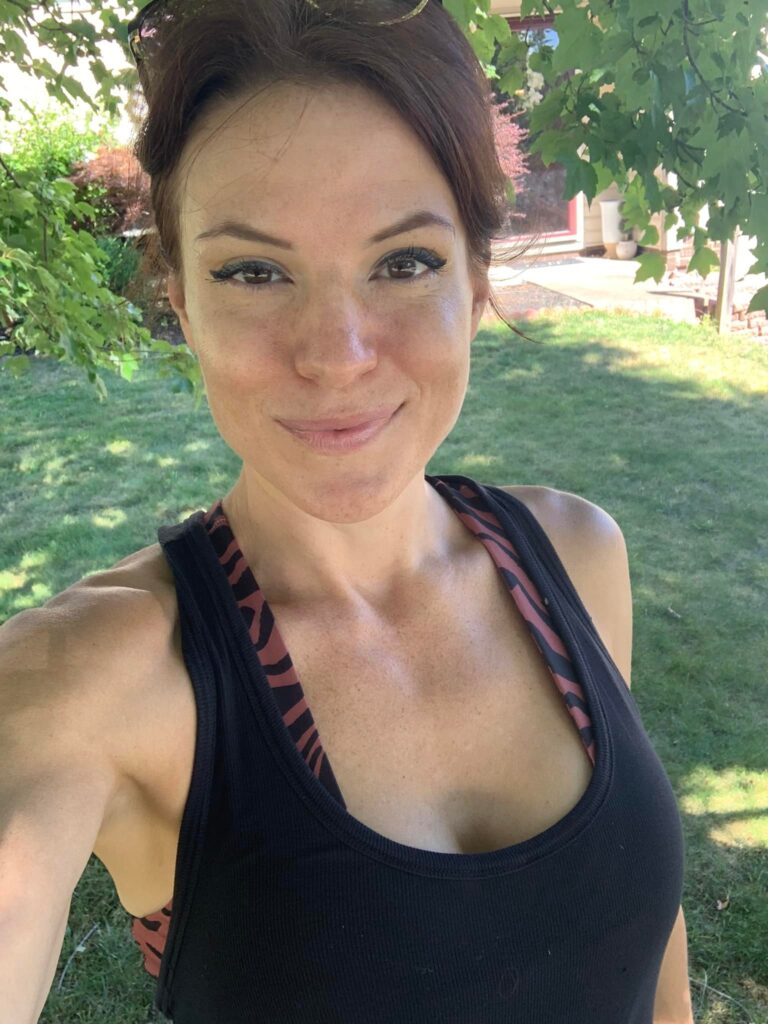 I hope you have fun with today's workout routine! Let me know what you think, how you feel, and if you're willing to share: one way that exercise has helped you to improve your life, function or capabilities.
Melissa
You can find me on Social Media: @BenderFitness and on Facebook: @MelissaBenderFitness Pinterest: Pinterest.com/BenderFitness TikTok: @BenderFitness 
If you want to help support BenderFitness so we can keep bringing you new workouts, your donation is greatly appreciated: https://www.patreon.com/BenderFitness.
Shop BenderFitness recommendations on Amazon (we get a small commission, but it doesn't change the price for you!): https://www.amazon.com/shop/benderfitness
Shop BenderFitness Gear: https://my-store-c67ce6.creator-spring.com
The Workout:
Low Impact Burpee
Pendulum Squat
Runners Lunge Pulse – Right
Runner's Lunge Pulse – Left
Crunch and Tap
Heel Tap Leg Lift
Side Plank Reach – Right
Side Plank Reach – Left
Hip Tap – Right
Hip Tap – Left
Leg Series – Right
Leg Series – Left
Elevated Leg Adduction – Right
Elevated Leg Adduction – Left
Sumo Push-up 
Triceps Push-up – Right
Triceps Push-up – Left
Reverse Plank Step Out
Hip Thrust – Right
Hip Thrust – Left
Repeat 1-2X
Photo Tutorial: