Hi Everyone!
Today's workout is a brand new 40-minute yoga flow. I am joined in the workout by Sean Vigue. Sean is no stranger two my channel. This is our third workout collaboration, plus he filmed a Full Body Pilates Core Workout for BenderFitness just a few days before I had my son.
It is always fun to collaborate with other people in the fitness industry because everyone brings their own unique style to their workouts. Which means more versatility for you! During this workout we included a warm-up and cool down, a Power Yoga Fat Burn, and a Core Burn section.
You can find Sean:
On YouTube: www.youtube.com/motleyfitness
On his Website: www.seanviguefitness.com
I definitely recommend subscribing to his channel. He has a wide variety of workouts, and a fun personality. Plus, he is an accomplished author of several fitness books. I have his Power Yoga for Athletes Book and I really like it. It makes Yoga accessible to more people.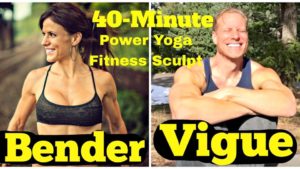 You can find our other workout collaborations here: 
Full Body Pilates Core Workout

20-Minute Plyometric Pilates Fitness Fusion
This month has been challenging for me. I feel like I have been starting & stopping, and halting before I am really able to achieve a good workout rhythm again. I will be writing about it today, and maybe doing a live video on Facebook.
I am really trying to hone in on my diet choices as well. When I get in my workouts my diet is more on track because I have less cravings. When I don't work out my appetite can get totally crazy, and I don't feel as satisfied. It can be a vicious cycle of bad habits! I know what I need to do to get on track, and I 100% know that I am capable of it, but it has been a struggle lately.
I hope you guys enjoy today's workout and work up a fantastic sweat! Please comment, click Like on the youtube video and let us know what you thought of the workout, and if you want to see more collaborations in the future.
Have fun today!
Melissa
PS You can find me on Social Media: @BenderFitness and on Facebook: @MelissaBenderFitness and Jesse is on Instagram: @BenderCrosby1 Sean is on Social Media: @SeanVigueFitness
PPS If you want to help support BenderFitness so we can get a new camera & new equipment & make our site more sustainable your donation is greatly appreciated: https://www.patreon.com/BenderFitness