Hi Everyone!
Welcome to Week 3 of my 6-Week Workout Challenge! I fought some technology issues with getting workouts published this weekend. It took a long time, but I finally won! Friday's Full Body Workout  video was finally published yesterday morning.
I have posted links to last week's workouts, and the schedule for this week. I took an unexpected rest day yesterday, so I had to adjust the schedule a bit. I was sore, tired, and trusted from fighting to upload last week's full body workout for so many days.
I will be filming today's workout this morning, but in the mean time I posted a Butt Sculpting workout video below. It still feels great to be back to working out! Update: The new workout is posted below, plus Jesse, Maverick and I went hiking today as our cardio. 
Today is a special day in our household, because Jesse and I are celebrating 6-years of marriage. Maverick was two months old yesterday, so it's an extra special year: our first year together as parents.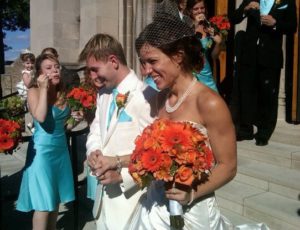 We hope you all enjoy today's workout! The new video is below, as well as a throwback lower body workout.
Melissa
Week 2 (last week):
1. Lower Body Workout + 30 Minutes of Easy Paced Cardio
2. Core Sculpt Workout + Moderate Intensity Cardio
3. Interval Cardio
4. Arms/Upper Body + Easy Cardio
5. Rest or Easy Cardio Day
6. Full Body Workout + Walk
7. Rest Day
Week 3: 
Rest Day
Lower Body + 30-Minutes of Easy Cardio
Core Sculpt + Moderate Intensity Cardio
Interval Cardio
Arms/Upper Body + Easy Cardio
Rest Day
Full Body Workout + Easy Cardio
New Workout:
Clam Shell-Right
Clam Shell-Left
Forward Fold Lift-Right
Forward Fold Lift-Left
Prone Heel Press
Side Lunge to Curtsy-Right
Side Lunge to Curtsy-Left
Sit to Table
Romanian Deadlift
Heel Lift Plie Squat
Crossing Glute Bridge-Right
Crossing Glute Bridge-Left
Alternating Leg Series Press
Ball Pull
Butt Lift
Repeat 1-3X + 30-minutes of easy cardio.
Old Workout:
Click the link to get your own Interval Timer: Buy a Gymboss now.
This workout can be performed as a HIIT 15 round 10/50 workout
I completed this workout for Reps.
Beginner: 10 reps
Intermediate: 15 reps
Advanced: 20 reps
1. Lunge Kick Switch
2. Warrior Deadlift (right)
3. Warrior Deadlift (left)
4. Pretzel (right)
5. Pretzel (left)
6. Side Squat Lift (right)
7. Side Squat Lift (left)
8. Kneeling Side Kick (right)
9. Kneeling Side Kick (left)
10. Down Dog Hop (right)
11. Down Dog Hop (left)
12. Plie Jump
13. Prone Leg Lift (right)
14. Prone Leg Lift (left)
15. Goddess Heel Lift
Repeat 1-3X
New Workout Photo Tutorial: