Hi Everyone!
Today's workout is a 30 Minute Yoga/Pilates/Fitness Fusion. The video is below. It's been a tough week of workouts so far. If you are following the schedule below you can choose to take a full rest day, or an easy day (walking or gentle jogging).
This workout style is great because it is challenging and it promotes both muscular strength and flexibility. This is a great full body workout that requires no equipment.
This is a throwback workout, but I did teach a 60-Minute Yoga class last night. I do plan on filming more yoga flows, so let me know if you like them.
Maintaining and improving flexibility and strength is important to injury prevention and muscular balance. People who are very flexible at times have difficulty holding positions like plank due to decreased strength in the muscles that support strong posture. People who focus only on strength often do so at the expense of flexibility and lost range of motion.
Having a balance of both strength and flexibility will promote health and proper biomechanics, which will help you to maintain a healthy body.
I love taking my workout outdoors. There is something rejuvenating about being surrounded by nature.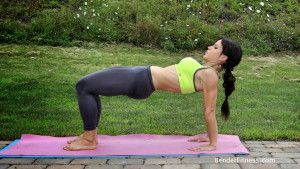 This week's Workout Schedule: 

Day 1: 16 Minute Full Body Home Workout: Arms, Legs, Core and Cardio
Day 2: 22-Minute HIIT Sweat Body Weight Workout: Cardio Sculpt
Day 3: Interval Workout to Begin Building Running Speed & Endurance
Day 4: 20 Minute HIIT: Core & Legs and 20 Minute Full Body Sculpt
Day 5: 10 Minute Booty Sculpting Workout
Day 6: Yoga, Pilates, Bender Fitness Workout Fusion or Full Rest Day
I hope you enjoy today's workout!
Melissa