Hi Everyone,
Are you ready for something delicious? As the weather turns cold I find that I crave soup. This week alone I have made Chicken Vegetable Soup and this tasty Butternut Squash Soup.
Butternut Squash is stock full of vitamins, and is a great addition to a healthy diet. I try to incorporate plenty of different colors into my food choices, because that means I am getting a variety of vitamins and minerals. Butternut Squash is high in potassium, fiber, vitamin A, manganese, vitamin C, Iron, Folate, Zinc, and more!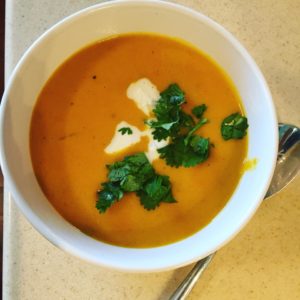 So let's talk a little bit about what I went through to make this bowl of deliciousness. This is not a hard recipe. It's actually pretty simple. Until you add a curious 17-month old toddler into the mix. My baby is now tall enough to reach things on the counter, even when they are pushed back away from the edge. This made chopping the butternut squash an adventure. He is especially taken with my orange chopping knife, and repeatedly requested "That! That!" Luckily, he was distracted by the music making ability of banging two whisks together.
My son loves helping me cook, and although he understands the concept of "hot" I have to frequently remind him to stay away from the stove. In my hurry to get things done, before he could get into anything crazy or touch the stove in the .05 seconds while my back was turned, I overflowed my food processor. This led to a small volcano of soup. I somehow managed to keep my son out of the overflow of Butternut Squash puree, which involved dancer like dexterity and convolutions.
Finally, after cleaning the kitchen, I sat down to enjoy this delicious soup. It tasted as good as I hoped, but a few bites in my son decided to add his own culinary twist to my meal. He placed his half eaten pear into my bowl.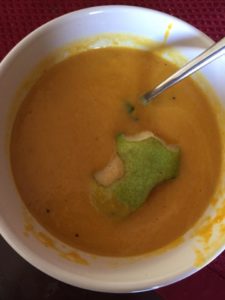 I share this story as a reminder, that as beautifully presented as things look on Instagram, somethings things are a lot crazier and more realistic behind the scenes. Messes are made. Life can be wonderfully messy, but sometimes that is what keeps things interesting. Maybe a little pear puree would have been a good addition to this recipe. Or maybe, things just go a little wonky sometimes, and that's okay too.
I hope you enjoy the recipe! If you try it (or make any tasty modifications!) let me know. I hope you enjoy it as much as I did! If you haven't already, don't forget to check out this week's workout schedule: 5 Home Workouts to Try This Week.
Melissa
PS You can find me on Social Media: @BenderFitness and on Facebook: @MelissaBenderFitness and Jesse is on Instagram: @BenderCrosby1 
For my non-fitness related posts I am on instagram as @Melissa_Bender_Life
PPS If you want to help support BenderFitness so we can get a new camera & new equipment & make our site more sustainable your donation is greatly appreciated: https://www.patreon.com/BenderFitness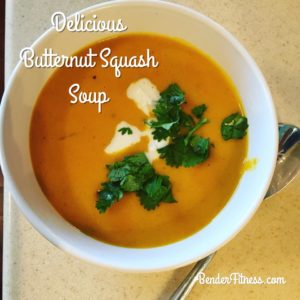 Ingredients:
-1 Tablespoon Coconut Oil (you can use olive oil if you prefer)
-1 Onion-diced
-1 Medium Butternut Squash Peeled and Cubed
-2-3 Cups Vegetable Broth
-Sea Salt
-Black Pepper
-Curry Powder (I used yellow)
-Turmeric
-Ground Cinnamon
-1 14-oz can Coconut Milk (use lite for a lower calorie soup, regular for a creamier soup-If you decide to use a thinner milk/milk substitute you will have to decrease the amount of milk)
-1-2 Tablespoons Maple Syrup
Optional Garnish:
-Pumpkin Seeds
-Full fat coconut milk
-Cilantro or Fresh Herb of Choice (I used cilantro because I had it on hand)
Directions:
In a large soup pan add coconut oil and onions. Sauté over medium heat, stirring frequently until onions shimmer.
Add cubed butternut squash. Season with salt, pepper, curry and cinnamon. (I used a dash of each and didn't measure.) Stir to lightly coat squash with seasoning. Cover and cook 5 minutes, stirring occasionally.
Add coconut milk, vegetable broth and maple syrup.
Bring to a light boil. Once boiling reduce flame to low. Cover and simmer for 15-18 minutes-until squash is tender enough to easily stick a fork into.
Blend until creamy.  (this is easiest with an immersion blender). If using a regular blender: transfer to blender in batches and puree until creamy. Return to pot.
Cook on low, and add additional seasoning to taste. (I didn't add any extra seasoning, but everyone has different taste preferences.)
Add garnish and serve.
Enjoy!
SaveSave
SaveSave
SaveSave