Hi Everyone!
I have a brand new workout for you today! Today marks the first day of my newest DietBet workout challenge. Usually I host a new DietBet challenge during the New Year, to help people with some motivation for achieving their resolutions.
This year, I am trying something different. It can be really hard to stay on track and make healthy choices during the holidays. So I decided to start a program that will run through the holiday season, and start the New Year off right. We can all stay on track together.
If you want to join my DietBet, but haven't signed up yet, you can do so here: www.dietbet.com/benderfitness. It's a great motivator if you have weight loss goals, because you win money for losing weight.
I want to know what your goals are this year. It can be health related, life related, fitness related. Whatever your goal is I want to hear it. Leave me a comment, tag me in an Instagram post. I want us to achieve our goals together. I love seeing people succeed.
Diet: I am going to be re-focusing on the Anti-Inflammatory Diet & Grocery List. I have mentioned in the past the fact that I am lactose intolerant. Unfortunately, I also love cheese, so I start sneaking in small amounts, and then slightly larger amounts. The result is swelling, bloating, inflammation, and weight fluctuations. Even my hands swell, and I get more frequent headaches. It's not fun, and it's not good for my body. So I am re-commiting to making healthier food choices.
I hope that you enjoy today's workout! Let me know what you think of the workout, and how you are feeling. Focus on form, but don't forget to have fun, or at least give yourself a pat on the back for getting in your workout today.
Let's keep making healthy choices together!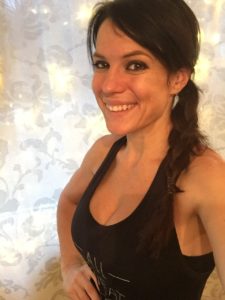 Melissa
PS You can find me on Social Media: @BenderFitness and on Facebook: @MelissaBenderFitness and Jesse is on Instagram: @BenderCrosby1 
For my non-fitness related posts I am on instagram as @Melissa_Bender_Life
PPS If you want to help support BenderFitness so we can get a new camera & new equipment & make our site more sustainable your donation is greatly appreciated: https://www.patreon.com/BenderFitness
Full disclosure: BenderFitness receives compensation for hosting a DietBet challenge. I will never share or support a product I don't believe in.
20 Rounds of 10/50
Knee Raise
Pendulum Squat
Leg Extension-Right
Leg Extension-Left
Low Impact Burpee
Leg Drop Abs
Side V-Up-Right
Side V-Up-Left
Superman
Angel Abs
Mountain Climbers
Jump Squat
High Knees
Russian Kicks
Lunge Jump
Warrior III-Right
Warrior III-Left
Hydrant-Right
Hydrant-Left
Curtsy Lunge-Alternating
Repeat 1-3X