Hi Everyone!
Today is Day 21 of my 6-Week Workout Challenge. I have another Interim Throwback workout for you! I have been doing a ton of behind the scenes blog work the last few days, and I am still behind on the actual filming. Filming workouts is just a portion of what it takes to run a Fitness blog/website. I did film a quick stretch Live on Facebook yesterday morning, so I will get that posted here as well, but I do still have two new workouts headed your way.
I mentioned it in a previous post, but our normal camera decided to stop working (in the middle of filming it said "error" and then never turned back on!) In the interim we are filming using my iPhone. The downside is that means I can't use our tripod to film while Jesse is at work. He has a race this weekend, so I didn't want to interrupt his training schedule, but we will be back on track with filming, and hopefully I can get a setup going where I can film more workouts during the day.
Either way, two new workouts are still headed your way! You can do 1-3 rounds of this workout. For cardio I recommend pairing this workout with a walk. Nothing crazy, we got in a great week of workouts, and you just got in some great cardio during this one.
Week 3: 
Rest Day
Lower Body-Butt Sculpt Workout + 30-Minutes of Easy Cardio
Core Sculpt (The New Core Workout is Posted) + Moderate Intensity Cardio
Arms/Upper Body + 30-Minutes of Easy Cardio
Rest Day
Full Body Workout + Easy Cardio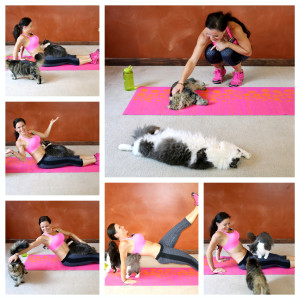 Have fun with this workout!
Melissa
PS I am on social media: @BenderFitness and on Facebook: @MelissaBenderFitness. You can find Jesse on Instagram: @BenderCrosby1
Set your Interval Timer for 15 Rounds of 10/50.
Burpees
Plank Heel Press
Reverse Plank Leg Lift
Rotating Side Plank
Burpees
High Knees
Jump Squat
Russian Kicks
X-Jump
High Knees
Mountain Climbers
Down Dog Spider-Right
Down Dog Spider-Left
Temple Tap Abs
Mountain Climbers
Repeat 1-3X