Hi Everyone!
Welcome to Week 4 of my 6-Week Workout Challenge! I can't believe how quickly time is flying by! Last week got a little bit crazy, and I wasn't able to film two of the workouts. I posted throwback workouts, and I will still film those at some point, but instead of letting myself get further behind with filming I decided to start over and focus on getting the workouts filmed for this week.
You can find the workouts that I have posted so far here: https://www.benderfitness.com/postpartum-beyond-6-week-workout-challenge. I made a separate page for easy access, so you can bookmark that for a quick link to all of the workouts so far.
That's life, things happen (even fitness bloggers miss workouts sometimes!) Don't let it throw you off track, just get right back into it. Consistency is key, and long term consistency is what we develop when we keep showing up for our workouts, even when life has thrown us off track.
Jesse ran a fantastic Half Marathon yesterday, and WON! It was fantastic, despite some really tough running conditions (95% humidity and mushy trails due to a recent rain). He trained very hard, and I am so proud of him. We are going to be starting "Sunday Run-Day" next week. So we will have information every week for runners. If you have specific running questions post them and you may see them answered/addressed in a future post.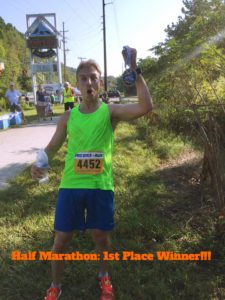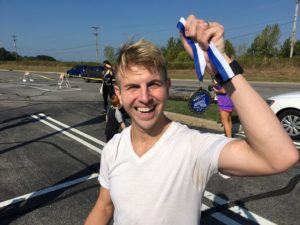 Today's workout is a fun challenge for the lower body. I utilized jump rope intervals to get an added fat burn, but you can vary with your cardio of choice. We work the calves, thighs, and butt from multiple angles in this routine to maximize our results.
One round of the workout will take 20-Minutes. Pair it with 30-Minutes of cardio of your choice. If you decide to go for three rounds you can skip the added cardio, because you are going to get a fantastic burn with the cardio bursts in the workout.
Have fun! I will see you tomorrow!
Melissa
PS You can find me on Instagram, Twitter, Pinterest and SnapChat: @BenderFitness and on Facebook @MelissaBenderFitness
Jesse is on Instagram: @BenderCrosby1
Buy a Gymboss now. Set your interval timer for 15 Rounds of 30/50. 
Wide Leg Pulse
Knee Lift Squat-Right
Knee Lift Squat-Left
Lunge Step Tap-Right
Lunge Step Tap Left
Knee Lift to Kick Press-Right
Knee Lift to Kick Press-Left
Down Dog Leg Lift-Right
Down Dog Leg Lift-Left
Pretzel Lift-Right
Pretzel Lift-Left
Table Side Step-Right
Table Side Step-Left
Warrior III-Right
Warrior III-Left
Repeat 1-3X
Add 30-Minutes of Easy Cardio