Hello Everyone!
Welcome to a brand new BenderFitness workout. Today's workout is an amazing Low Impact (no jumping) workout routine that will take 25-Minutes to complete. We are working the full body today. This is a No Equipment Workout so all you need is a little bit of space and a yoga mat.
What are the benefits of Low Impact exercises?
There are several! You have less chance of getting injured, it can be easier to get yourself going when you aren't motivated to workout (when you're tired just thinking of plyometric workouts can make you feel more tired), they are great for mobility, and you can still get in an amazing workout. You can also do Low Impact workouts on a daily basis.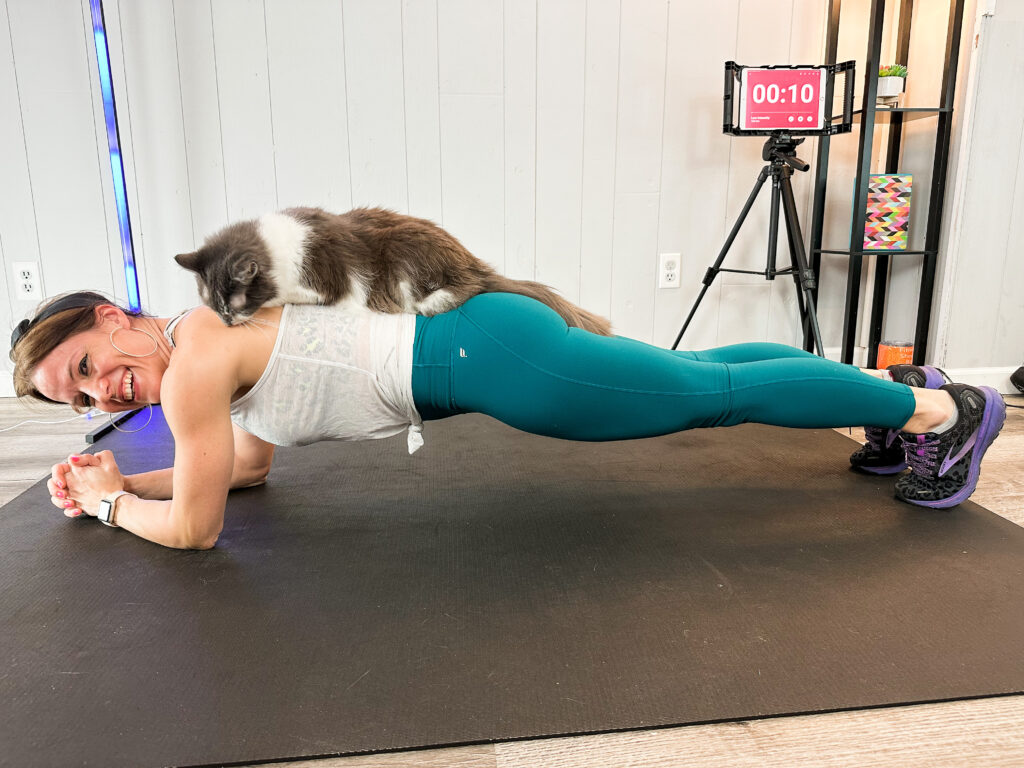 Every human body is different, some people recover from HIIT workouts with plyometric exercises more quickly (and can do those types of workouts more often) and others experience more muscle soreness, fatigue and require longer recovery. Using both HIIT and LIIT workouts can help you to stay more consistent in your workout routine without over doing it. Even if you stick to just Low Impact workouts you can have a significant impact on your overall health, wellness and fitness level. You can still push yourself for maximum repetitions, you can still get in cardiovascular benefits, but it's less impact on your joints.
If you love this workout, you might also enjoy THESE Low Impact Exercise Routines. Low Impact isn't code for easy. They will still challenge you and make you stronger. You just doing have to do tons of jumping during these routines.
One thing I really liked during this routine: I felt a major burn in my shoulders and arms. Body weight exercises for the arms and shoulders can be super effective, and this routine incorporates some great ones.
It has been great sharing new workouts with you all. I hope you've enjoyed the new content we are putting up and that you find this workout challenging and useful. I would love to know if you had any favorite moves from this routine, and if you have any workout requests for videos you would like to see.
Have fun & check back soon for more new workouts!
Melissa
If you want to help support BenderFitness so we can keep bringing you new workouts, your donation is greatly appreciated: https://www.patreon.com/BenderFitness.
Shop BenderFitness recommendations on Amazon (we get a small commission, but it doesn't change the price for you!): https://www.amazon.com/shop/benderfitness
Shop BenderFitness Gear: https://my-store-c67ce6.creator-spring.com
Interval Timer: 25 Rounds of 10/50
Total Workout Time: 25 Minutes
In/Out Squats
Zombie Kick
Chair Rotation: Right
Chair Rotation: Left
Single Arm Reverse Plank Crunch: Right
Single Arm Reverse Plank Crunch: Left
Super Swim
Temple Tap Abs
Tricep Pushups: Right
Tricep Pushups: Left
Walk the Plank
Cactus Squeeze
Warrior III Taps: Right
Warrior III Taps: Left
Pendulum
Standing Leg Circles: Right
Standing Leg Circles: Left
Knee to Knee Leg Extension: Right
Knee to Knee Leg Extension: Left
Beast Knee to Elbow
Knee Drop Plank
Stir the Cauldron
Elbow Tap Side Plank: Right
Elbow Tap Side Plank: Left
March it out