Hello Everyone!
Are you ready for a great, effective, and fast workout routine? If you said yes, then you are definitely in the correct place. Today we are continuing the four part Tabata workout series with routine #3. The full length, real time workout video and photo tutorial are below.
One round only takes 4-Minutes so it's great for anyone short on time, but still looking to get in an amazing workout. I like to do 3-4 Rounds of Tabatas, but I know that even if I can only fit in one round I am still improving my fitness level. I'm a busy mom, so sometimes one four minute round of exercise is all I can fit in. When that's the case I need to make sure every minute counts.
I have to admit, parenting and exercise comes with its own set of challenges. It just isn't as easy to workout when your schedule includes caring for other human beings and trying to keep them to a schedule and in extracurricular activities. Life and its demands is always in flux.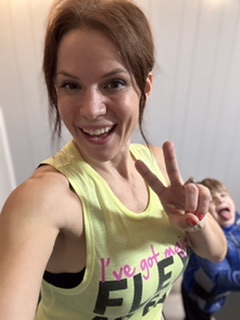 Sometimes when I get overwhelmed I need to remind myself that part of the reason that I started this website while I was in graduate school, was because I was SO BUSY that I needed to change my workout routine and style of workouts. I went from running and longer yoga flows to developing my own HIIT and home workouts. A large part of the reason why I did that, was because my schedule required me to get in an optimized workout in a shorter amount of time. And here we are more than a decade later, still sharing workouts that fit a busy lifestyle.
Although the demands on my time are very different now, the root issue of feeling like I don't have enough time is the same. And quick workouts like this one are a perfect solution to a busy lifestyle. Maybe I don't have time for 40-60 minutes of exercise, but when it's broken down into 4-minute intervals it suddenly becomes doable.
You can find the other workouts I've shared so far this month here: Newest Workouts. If you haven't given them a go yet, I encourage you to do so. Exercise isn't just an amazing way to stay in shape and feel physically strong, it improves your mental and physical health. It even helps me to feel more patient and calm throughout the day. Moving and exercising is beneficial in so many ways.
I would love to hear what you think about this workout. Did it challenge you? How many rounds did you get in? Let me know in the comments below, or tag me in your workout check in post on whatever social media you use. I love seeing you progress and grow stronger and more confident.
Have fun, keep moving, and check back soon for more workouts!
Melissa
If you want to help support BenderFitness so we can keep bringing you new workouts, your donation is greatly appreciated: https://www.patreon.com/BenderFitness.
Shop BenderFitness recommendations on Amazon (we get a small commission, but it doesn't change the price for you!): https://www.amazon.com/shop/benderfitness
Shop BenderFitness Gear: https://my-store-c67ce6.creator-spring.com
The Workout
Interval Timer Set for 8 Rounds of 10/20.
Mountain Climbers
Switch Kicks
Lunge Jumps
Speed Skater
Repeat