*This post contains some affiliate links.
If you've been following BenderFitness for a while, you probably already know that I'm obsessed with soups and broth bowls. Not only do I love the flavor, and the ease of adding plenty of veggies into a nutrition dense meal. I also love the lower number of dishes needed to clean up.
Whether it's a crockpot recipe, or a stovetop dish I love the ease of soup. Plus, as the seasons change and the days grow cooler it warms me up from the inside out. In the Autumn and Winter months I make soup at least once per week, and it keeps our family fed for several meals.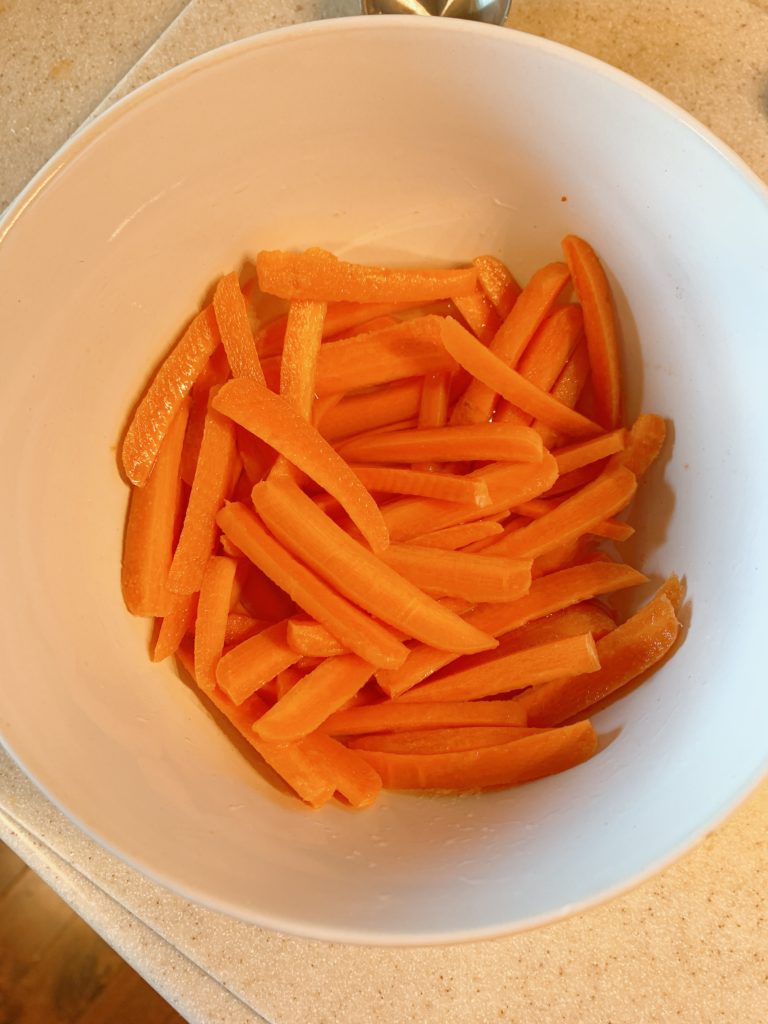 In this recipe I use pickled carrots for a little extra kick of flavor. Thinly sliced pickled radish is another great addition. Not a fan of pickled flavor? Throw your un-pickled carrots in with the broth to cook.
Some other great veggie additions: cabbage or broccoli. If you try something else, let me know in the comments. To keep things easy I use my Aroma Housewares 2-8-Cups (Cooked) Digital Cool-Touch Rice Grain Cooker and Food Steamer, Stainless, 8 Cup, Silver
.
I love knowing that our entire family is getting plenty of nutrients in one simple meal. My four year old loves soup, and my 7-month old gets a deconstructed version of this recipe.
We get about 3 days worth of meals from this recipe, and it's easy to freeze.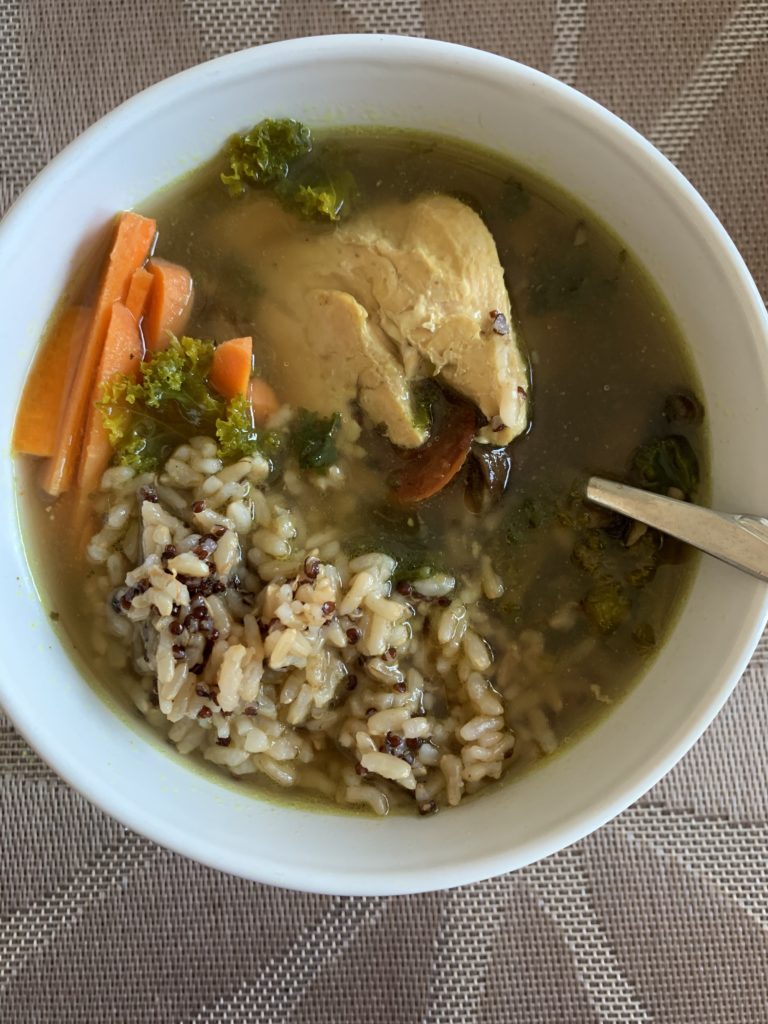 I also love that it incorporates plenty of anti-inflammatory foods and spices. I feel great after I eat it.
Are you a soup fan? Do you have it as a meal or as a side dish?
Melissa
PS You can find me on Social Media: @BenderFitness and on Facebook: @MelissaBenderFitness and Jesse is on Instagram: @BenderCrosby1
PPS If you want to help support BenderFitness so we can keep bringing you new workouts, your donation is greatly appreciated: https://www.patreon.com/BenderFitness.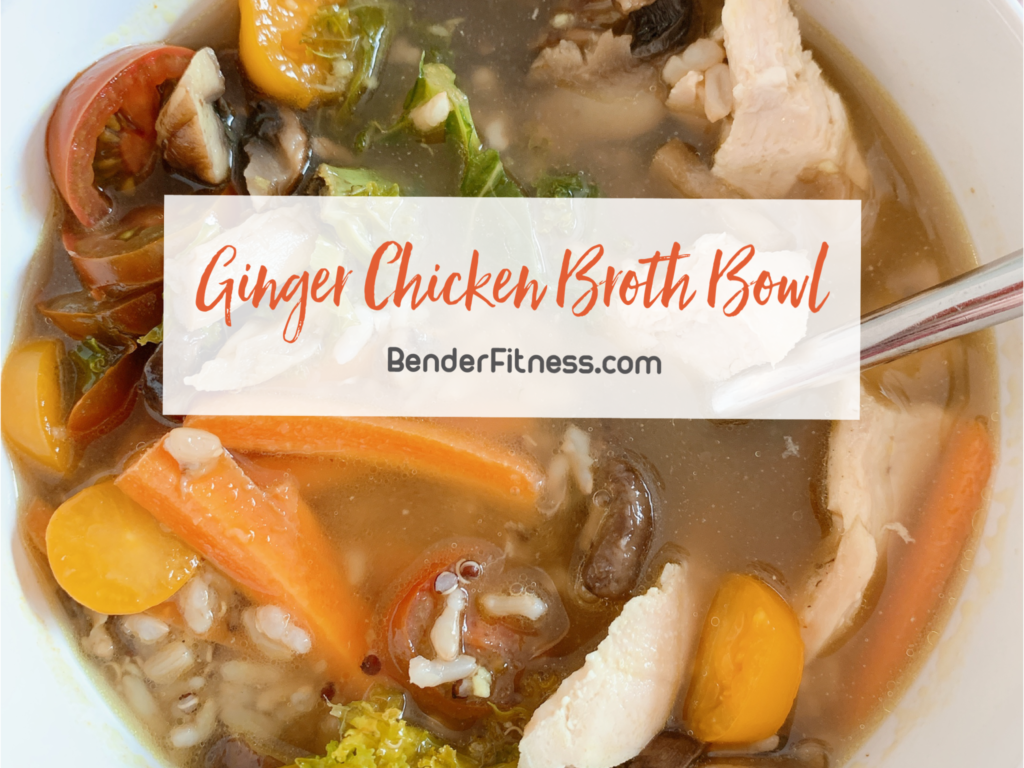 Recipe:
Pickled Carrots:
This step is optional. You can use regular carrots in your broth bowl, but I like the zing that the pickled carrots add. Thinly sliced radishes are a great addition to the carrots.
Make the pickled carrots first and set aside. Put the carrots in a medium bowl, add vinegar, sugar and salt and pepper. Cover and set aside. You can refrigerate the ingredients overnight if you prefer a stronger pickle.
Chicken Broth (3 lb)
Extra Virgin Olive Oil
1 teaspoon minced fresh ginger
5 cloves minced garlic
1 8 oz. container Baby Bella Mushrooms-Sliced
2 Tablespoons Fish Sauce
2 Tablespoons Soy Sauce or Coconut Aminos
2 teaspoons Sesame Oil
Baked chicken sliced 
Two generous handfuls of Kale
Sliced cherry tomatoes 
Brown Rice
Prepare brown rice according to directions.
In a soup pot heat extra virgin olive oil. Add minced garlic and heat until fragrant.
Add Mushrooms and cook until softened, stirring as needed.
When the mushrooms are heated add the fresh ginger. Stir.
Add Broth, Fish Sauce, Soy Sauce (or Coconut Aminos) and Sesame Oil. Stir.
Bring to a boil, then reduce heat to a simmer.
Add Kale and stir.
Slice Chicken. I bake my chicken with olive oil, garlic and ginger for added flavor.
In a soup bowl: Add brown rice, sliced chicken, pickled carrots (removed/drained from the vinegar), and sliced tomatoes. Top with the cooked broth, kale and mushroom mix.
You're ready to enjoy! I hope you liked it.
Did you make any modifications to the recipe? Let me know in the comments.