Hi Everyone!
Welcome to this Week's Workout Schedule!
This week we are focusing on Total Body Sculpting, and Compound Exercises. Compound exercises, are exercises that use two or more joints to stimulate multiple muscle groups at the same time.
Compound exercises can make Total Body Workouts into a great way to maximize the results of your workout routine in a shorter amount of time. As a parent, I find quick workouts to be a necessity. I want to get in an awesome workout, in the least amount of time. I need my workouts to be quick, and efficient. These routines fit the bill.
I posted the weekly workout playlist below, as well as individual breakdowns to each workout routine. Pick whichever method works best for you.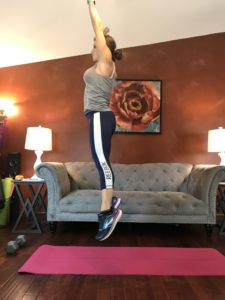 Sometimes, getting started is the hardest part of the workout. If you find yourself struggling with motivation, try my 5-Minute Rule. If you really don't want to workout, start your workout anyway, but give yourself permission to quit after 5-Minutes. For me, the hard part is getting started. Even though I give myself permission too quit, once I get started I have enough motivation and determination to keep going.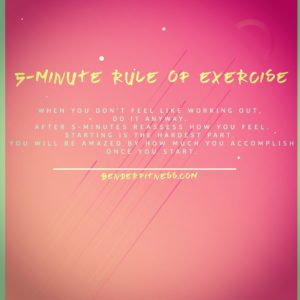 Bonus Challenge: Last week's bonus challenge (in addition to the scheduled workouts) was eating more vegetables. This week, I challenge you to try a daily meditation. I aim for 10 minutes per day, but it can be longer or shorter based on how much time you have. I have tried several apps, and I really enjoy Insight Timer. They have a ton of free meditations ranging from just a few minutes to an hour or longer. You don't need an app to meditate, but I find that I enjoy being introduced to different styles of meditation.
Of course, you are welcome to continue last week's challenge as well. It's always a good idea to eat a wide variety of colorful vegetables!
We are filming another new workout (or maybe two if time allows!) tomorrow. So check out Instagram for sneak peeks into the routine. Jesse and I each pick an exercise from each new routine to share on Instagram.
Don't forget to define your goals for this week. Putting things in writing, and making a plan will help you stay on track. Feel free to tag me in your workout posts on Instagram. I would love to share some encouragement, and feature you in my Insta-stories.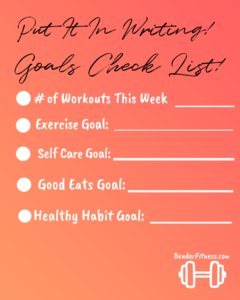 I hope you enjoy this week's workouts! Let me know what you think!
❤️ Melissa
PS You can find me on Social Media: @BenderFitness and on Facebook: @MelissaBenderFitness and Jesse is on Instagram: @BenderCrosby1
PPS If you want to help support BenderFitness so we can keep bringing you new workouts, your donation is greatly appreciated: https://www.patreon.com/BenderFitness.
Workout 1:
Workout 2:
Great Lower Body Sculpt and Shape Workout: Home Workout for Butt and Thighs
Workout 3:
12 Minute Total Body Sculpt & Fat Burn: No Equipment HIIT Workout
Workout 4:
Workout 5:
Workout 6: