Hi Everyone
Welcome to this week's workout schedule. This is a great week long workout program to help you stay on track and get in your workouts. We are also filming new workouts this week, so be sure to stay tuned.
I have posted links to five workouts below. This is a great, well-rounded workout program. It will work on all areas of fitness: strength, speed, power, flexibility, and coordination. Focus on form during the movement. Push yourself outside of your comfort zone.
It doesn't matter how many reps you get in, but intensity level matters. As long as you are pushing/challenging yourself you are on the right track. If any of the workouts feel easy, it's time to push for more reps, or even add some weights. Challenging yourself teaches your body to adapt to doing harder things. Challenges make us stronger.
I am also adding running back into my routine. It's been a stop and go process for me, so I am focusing on getting in three runs per week. On running days I do one round of my workout and a 30-40 minute run. I aim for approximately one hour of total workout time.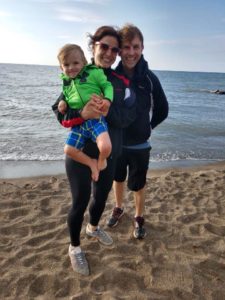 Our family has been making the most of the gorgeous weather. We love sunshine and spending time outside. I love introducing our son to new experiences. I am going to write more about doing mini-adventures with my family. There are a lot of ways to stay healthy and active, outside of traditional workouts. Many people are nervous to try new experiences with toddlers, but it's amazing how well they can adapt when given the opportunity.
Nutrition: This week I am focusing on staying hydrated, and getting in more fruits and vegetables. The more colorful your diet, the more varied your nutritional profile. Lately, I have been falling into the trap of convenient foods. This week I am going to focus on doing more prep so that it's easier to stay on track.
On Instagram, I was recently asked if I follow a low carb diet. I do not. My body doesn't feel good when I am low on carbs. I just focus on eating a balanced diet with plenty of fruits and veggies. I don't eat red meat. I eat a lot of chicken, salmon, and shrimp. I tend to share more veggie dense meal photos on Instagram, to give people ideas of how to incorporate more vegetables into their diets.
I hope you enjoy this week's workout schedule! Let me know what you think, and how you feel. As we film new workouts I will post sneak peek moves on Instagram/Facebook. It is a HUGE help to BenderFitness when you like or comment on our posts on Instagram and Facebook. Nowadays it is a struggle to get our posts seen, which really hurts our website. The bigger businesses, which can afford to sponsor their posts are able to be seen, and smaller sites like ours don't even show up in people's news feeds. When you comment and like, it makes our posts more visible and tells Facebook and Instagram that you want to see more like that.
Have a wonderful day, and thank you for working out with us.
Melissa
PS You can find me on Social Media: @BenderFitness and on Facebook: @MelissaBenderFitness and Jesse is on Instagram: @BenderCrosby1
For my non-fitness related posts, I am on Instagram as @Melissa_Bender_Life
PPS If you want to help support BenderFitness so we can stay free and sustainable, your donation is greatly appreciated: https://www.patreon.com/BenderFitness
Workout 1:
Workout 2:
10-Minute Belly Workout: Core Strengthening + Fat Burning Home Workout
Workout 3:
Workout 4:
Workout 5: