Hi Everyone!
It's time to workout! Are you ready? Yes? I hope you said yes! This is a great fat burning workout that will boost your metabolism, and help you build strength.
This is a quick, but challenging workout for your entire bod. You don't need any equipment, except a yoga mat, and an interval timer (or just follow along with the video). As always, push for maximum repetitions. Focus on good form, and don't sacrifice form for speed. We want Max Reps with Good Form.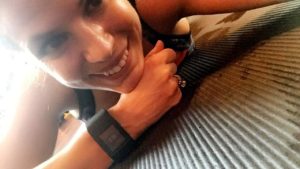 I actually did this workout twice this week. Jesse and I did two rounds of it together earlier in the week. I did one round when I was filming (and filmed a second workout right after this one). When I did the workout with Jesse I was actually able to push for more reps. When I film, I slow down a bit, because I am chatting and demonstrating the moves. When I push full out there is a lot more gasping for breath. Don't be afraid to challenge yourself. Sweat and heavy breathing doesn't mean that you are out of shape. It means that you are pushing your limits.
This workout kicked my butt (in a good way!) I was dripping sweat, and worked my entire body. Be sure to warm up before the workout and cool down when you are done. After the second round I was totally beat. I cooled down to get my heart rate back to normal and finished with some stretching.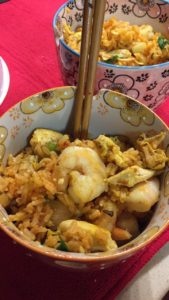 I am still sticking with my anti-inflammatory diet. I ordered a rice cooker, and used it for the first time last night. I made Paella with chicken, shrimp, and Jasmine brown rice. It was delicious, and I have leftovers. Remember, healthy eating doesn't have to mean bland eating. Do you have a favorite healthy recipe or dish?
Melissa
PS You can find me on Social Media: @BenderFitness and on Facebook: @MelissaBenderFitness and Jesse is on Instagram: @BenderCrosby1 
PPS If you want to help support BenderFitness so we can get a new camera & new equipment & make our site more sustainable your donation is greatly appreciated: https://www.patreon.com/BenderFitness
Get Your Own Interval Timer: Buy a Gymboss now.
Set Your Timer: 16 Rounds of 10/50.
High Knees
Cheek to Cheek
Cross Jack
Criss Cross Curtsy Lunge
Mountain Climbers
Rolling Situp-Superman to Boat
Side Plank Hip Lift-Right
Side Plank Hip Lift-Left
Leg/Hip Lift
Burpees
Warrior III-Right
Warrior III-Left
Cross Donkey Kick
Heel Tap Squat Jump
Down Dog Hop-Right
Down Dog Hop-Left
Repeat 1-3X