Hi Everyone!
It's workout time! Are you ready for a quick & effective workout? This one only takes 12-Minutes per round. You can repeat it if you want a longer workout. I did this workout once through for reps, and once for time. The breakdown for both is listed below the workout video.
I found it more challenging to do this routine for time, but I like to switch up my methods so that my body doesn't adjust to any one style of training.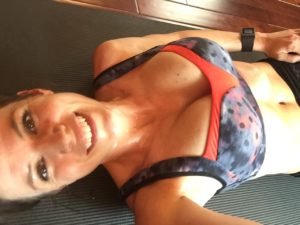 I feel like time is flying by. Maverick is now officially 7-Months old. I am just now starting to feel like I am getting my "workout groove" back. I am getting in my HIIT workouts consistently. I feel stronger, more energetic and healthier.
Up to this point I haven't been running with any consistency (1 run per week if I am lucky). It has been difficult to fit in with the cold weather, because I don't like taking him running in the stroller in these temperatures. Running is one of the things I really want to incorporate back into my life. I miss it. I like that it is a different type of challenge.
Plus, running provides me with a zen-like "in the moment" experience. I can tune into my breathing, and it's like a form of mobile meditation for me. I am going to be taking over teaching a running course at Penn State Beaver, so I am going to use that as motivation to start running consistently again. My students will be running 3 days per week, so that is my starting goal.
I hope you enjoy today's workout! Jesse and I did 2 rounds, let me know how many times you get through it, and how you feel. I filmed this one immediately after filming yesterday's 16-Minute HIIT. I felt EXHAUSTED by the time I was done. In a good way!
Have fun!
Melissa
PS You can find me on Social Media: @BenderFitness and on Facebook: @MelissaBenderFitness and Jesse is on Instagram: @BenderCrosby1 
PPS If you want to help support BenderFitness so we can get a new camera & new equipment & make our site more sustainable your donation is greatly appreciated: https://www.patreon.com/BenderFitness
Get Your Own Interval Timer: Buy a Gymboss now.
For Time: Set Your Timer: 12 Rounds of 10/50.
For Reps:
Level 1: 10 Reps
Level 2: 15 Reps
Level 3: 20 Reps
Push-ups
Warrior Deadlift-Right
Warrior Deadlift-Left
Burpee
Angel Abs (Right+Left=1 Rep)
Plank Crunch (Right+Left=1 Rep)
Side Lunge Cross-Right
Side Lunge Cross-Left
Lunge Hop-Right
Lunge Hop-Left
Frogger
Side Plank Pushups (Each Pushup = 1 Rep)
Repeat 1-3X