Good Morning!
You made it to Day 17 of the Original #30DayWorkoutChallenge! That's fantastic! I am sure you are ready for a yoga stretch & recovery day (I know I am!)
We had a few really intense workouts in a row. It's important to alternate intense workouts with recovery days and workouts. Our muscles recover and grow stronger when we rest. Stretching will help to prevent shortening of the muscles, which helps you maintain proper range of motion, prevents injury, and helps you maintain appropriate biomechanics and alignment.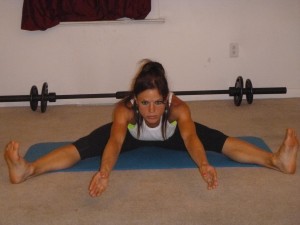 I really needed a yoga stretch last night! I have been battling low back soreness on and off for a month or two now. Maverick is about 20-pounds now, and I constantly have to correct my posture when I am holding him. I find that I am constantly in an anterior pelvic tilt position (see the photo below). This means that my hips tilt forward, belly presses forward, low back is shortened and my pelvic position is way off. I believe this is a big part of the reason why I have lost so much flexibility since having him.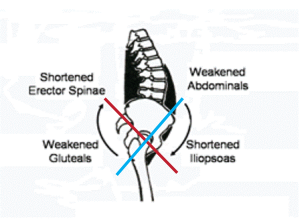 Stretching, glute strengthening, and pelvic tilts are all a part of what I need to do to prevent further pain, and get my biomechanics back on track. I taught a 60-minute yoga class last night, and after the class my back felt fantastic.
I hope that you guys are doing great with the challenge! Don't forget, I have a new challenge starting February 1st! A new DietBet Weight Loss Challenge with all new workouts! If one of your goals is to lose weight, you can sign up for the challenge here: www.dietbet.com/BenderFitness for a chance to win money while losing weight.
Melissa
PS You can find me on Social Media: @BenderFitness and on Facebook: @MelissaBenderFitness and Jesse is on Instagram: @BenderCrosby1 
PPS If you want to help support BenderFitness so we can get a new camera & new equipment & make our site more sustainable your donation is greatly appreciated: https://www.patreon.com/BenderFitness