Hi Everyone!
Welcome to Day 16 of my Original #30DayWorkoutChallenge. This is a fun, full body workout that alternates strengthening and cardio based strength moves. Push yourself to get in maximum repetitions.
The great thing about HIIT workouts is that they allow you to progress, and you can challenge yourself no matter what your fitness level is. You want to push for as many reps as your body can handle during each 50-second interval. Focus on good form. If you need to take a break, jump back into the workout as quickly as you are able to. Do not sacrifice form for speed.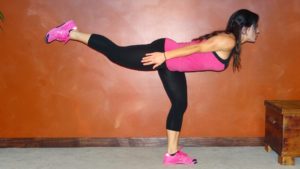 At this point we are more than half way through the 30-Day Workout Challenge (you can find the other workouts for the week here: Weekly Workout Schedule. You should be noticing changes in how you feel, your strength, your endurance. What changes have you noticed so far?
I am feeling a lot better. I have cleaned up my diet, and am making healthier choices. For me, my diet always reflects my workout routine. When I am on track with my workouts making healthier food choices comes more easily. When I am missing workouts I feel tired and sluggish, which makes me crave more unhealthy foods. I believe that it is my body's way of trying to find an alternate source of energy. Working out actually improves your energy.
Let me know how you feel! I have an exciting month planned for us for February. A new DietBet Challenge & all new workouts.
Have fun and don't forget to check in and let me know how you're doing!
Melissa
PS You can find me on Social Media: @BenderFitness and on Facebook: @MelissaBenderFitness and Jesse is on Instagram: @BenderCrosby1 
PPS If you want to help support BenderFitness so we can get a new camera & new equipment & make our site more sustainable your donation is greatly appreciated: https://www.patreon.com/BenderFitness
10/50 Second Intervals. 10 Seconds Rest, 50 Seconds Max Reps. 

1. Lunge Jump Kick Back
2. Knee Drop Plank
3. High Knees
4. Overhead Squat
5. Ab Twist
6. Mountain Climber
7. Goddess Twist
8. Dive Bomber
9. Low Jack
10. Side Lunge Tap
11. Full V-Up
12. High Knee Twist
13. Sumo Squat
14. Hip Lift
15. Knee Tuck
This workout can be repeated up to 3X if you are looking for a longer, more intense workout.