Hi Everyone!
Are you ready for Day 18 of my Original #30DayWorkoutChallenge? It's time to work up a sweat!
Yesterday was a Yoga Stretch & Recovery Day. Hopefully you are feeling rested and ready to work up a sweat with today's HIIT workout! I did jump rope as my cardio during this video, but you can substitute High Knees, Mountain Climbers, Burpees or another cardio of choice. You can also do rope-less jumping if you don't have a jump rope.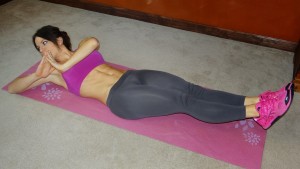 Be sure to push yourself for maximum repetitions (with good form!) Don't give up on yourself during the workout. Push through, and hop right back in if you need to take a rest break. The workouts are not meant to be easy. They are meant to challenge you, and make you stronger. As human beings we are all capable of more than we realize. When you set goals for yourself, and when you push yourself outside of your comfort zone you are giving yourself the opportunity to improve. We don't improve by accepting the status quo.
I hope that you guys are doing great with the challenge!  Have fun with today's workout. Don't forget, I have a new challenge starting February 1st! The February Challenge is a DietBet Weight Loss Challenge with all new workouts! If one of your goals is to lose weight, you can sign up for the challenge here: www.dietbet.com/BenderFitness for a chance to win money while losing weight.
Melissa
PS You can find me on Social Media: @BenderFitness and on Facebook: @MelissaBenderFitness and Jesse is on Instagram: @BenderCrosby1 
PPS If you want to help support BenderFitness so we can get a new camera & new equipment & make our site more sustainable your donation is greatly appreciated: https://www.patreon.com/BenderFitness
45 seconds cardio of choice, 50 seconds max reps: 15 Rounds

-Jump Rope
1. Singe Leg Hop Up (right)
-Jump Rope
2. Single Leg Hop Up (left)
-Jump Rope
3. Frogger Push Up
-Jump Rope
4. Single Leg Hip Thrust (right)
-Jump Rope
5. Single Leg Hip Thrust (left)
-Jump Rope
6. Tapping Warrior 3 (right)
-Jump Rope
7. Tapping Warrior 3 (left)
-Jump Rope
8. Side Plank Leg Lift (right)
-Jump Rope
9. Side Plank Leg Lift (left)
-Jump Rope
10. Leg/Hip Lift
-Jump Rope
11. Mountain Frogger
-Jump Rope
12. Crab Kick
-Jump Rope
13. Temple Tap Abs
-Jump Rope
14. Boat Swim
-Jump Rope
15. Burpee