Hi Everyone!
Welcome to Day 15 of my Original #30DayWorkoutChallenge! This is the Half Way point! Congratulations on making it this far! That shows that you have the determination to do this, and make it all the way through!
For my cardio burst during this workout I chose Burpees. You can choose an alternate cardio if the Burpees are too intense for you. Don't be afraid to push yourself though. Challenge yourself to get in as many reps as you are capable of. If you track how many reps you can get in you will notice changes and improvements as you progress. I recommend keeping a workout journal, or picking a number in your head and aiming to hit (or surpass!) that goal while you are training.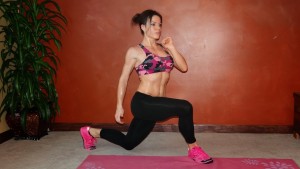 Setting mental goals along the way will help you to progress. It will also help you to see that your body is making changes and getting stronger. To me a huge benefit of exercise isn't just changing your physical appearance. It is growing stronger, and recognizing what you are capable of.
"Man often becomes what he believes himself to be. If I keep on saying to myself that I cannot do a certain thing, it is possible that I may end by really becoming incapable of doing it. On the contrary, if I have the belief that I can do it, I shall surely acquire the capacity to do it even if I may not have it at the beginning." 
― Mahatma Gandhi
What are you capable of? What have you decided that you can/will be capable of? Are you willing to work and practice to make your goals your reality?
I hope that you enjoy today's workout!
See you soon,
Melissa
PS You can find me on Social Media: @BenderFitness and on Facebook: @MelissaBenderFitness and Jesse is on Instagram: @BenderCrosby1 
PPS If you want to help support BenderFitness so we can get a new camera & new equipment & make our site more sustainable your donation is greatly appreciated: https://www.patreon.com/BenderFitness
30 Seconds Cardio, 50 Seconds Max Reps
*I accidentally skipped one exercise so this is a 19 minute workout. 
*I chose Burpees for my cardio. Other options include: Jump Rope, High Knees, or Jumping Jacks

-Burpee
1. Pendulum Hop
-Burpee
2. Frog Hopper
-Burpee
3. Curtsy Lunge Kick (right)
-Burpee
4. Curtsy Lunge Kick (left)
-Burpee
5. Mountain Runners
-Burpee
6. Plank Jack
-Burpee
7. Rockette Kicks
-Burpee
8. Speed Skater
-Burpee
9. Double Kick Lunge Jump
-Burpee
10. Leg Lift Plank
-Burpee
11. Plie Jump
-Burpee
12. Mountain Climber
-Burpee
13. Side Lunge Lift (right)
-Burpee
14. Side Lunge Lift (left)
Repeat 1-3X