Good Morning Everyone!
How are we midway through the week already? Does anyone else feel like time is rushing by? Today's workout is a full body routine, but you will definitely feel it in your core. I did this workout for Reps, but you can do it HIIT style by setting your timer for 13 rounds of 10/50 and going for max reps.
I enjoy the challenge of Repetition based workouts in a different way than I enjoy HIIT. Your body responds differently to each technique, and that is a great way to keep making progress.
I filmed a workout collaboration with Sean Vigue yesterday, so we have a new Yoga workout headed your way. The workout is a Power Yoga flow. We combined some fast paced ashtanga styled movements (one breath per movement) for increased fat burning and total body exercise with a slower core based flow. I think you guys are really going to enjoy it!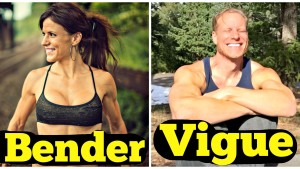 Yesterday, in addition to filming my collaboration with Sean, I did 20 Squat Jumps and Lunge Jumps 2X as some bonus exercise. It was one of those days where I just had to squeeze in some extra movements so I got in a little bit extra where I could.
I was thinking of doing a Thanksgiving 5K, but it's supposed to be raining and close to freezing temperatures, so I think I am going to just do an AM workout in the warmth of my home. I don't mind running in a nice summer rain when it's warm outside, but I do not like being freezing and wet!
I hope you all enjoy today's workout. I am looking forward to sharing the new routine with you!
Melissa
PS You can find me on Social Media: @BenderFitness and on Facebook: @MelissaBenderFitness and Jesse is on Instagram: @BenderCrosby1
PPS If you want to help support BenderFitness so we can get a new camera & new equipment & make our site more sustainable your donation is greatly appreciated: https://www.patreon.com/BenderFitness
Beginner: 10 reps
Intermediate: 15 reps
Advanced: 20 reps

*Cardio options: high knees, jump rope, jumping jacks, mountain climbers

1. 60 seconds cardio
2. Bicycle
3. Sumo Push-ups
4. Warrior Switch
5. 60 seconds cardio
6. Rotating Scissor taps
7. Switching Ab Reach Through
8. Plie Pulse/Jump
9. 60 seconds cardio
10. V-Ab Reach Through
11. Monkey Push-ups
12. Lunge Jumps
13. 60 seconds cardio
Repeat 1-3X