Hi Everyone!
Today's workout is quick and efficient. It's only 16-Minutes per round, but it had me sweating like crazy! I used a dumbbell for the first exercise, but you can choose to make it body weight only if you prefer.
I utilized High Knees are my cardio burst between exercises. If you prefer Jump Rope, Mountain Climbers, Jumping Jacks, or another form of cardio you can switch it up. Just push yourself to keep the pace/intensity high.
I posted three videos below. The first is a 5-minute Warm Up that you can do before the workout so you are ready to maximize your intensity. The second is the workout video, and the third video was yesterday's challenge move. This month I will be posting one challenge move per day for the Lower Body. You can add that exercise onto your workout of the day (if you choose to accept the challenge!)
Jesse and I had our first group yoga class of the semester last night. We normally teach a Yoga Class and a Boot Camp class each semester at a local university's wellness center. With the baby, we decided to limit it to just one class this year. I paired one round of the 16-Minute workout with an hour of Yoga. It was a pretty intense yoga class, so we worked up a great sweat there too.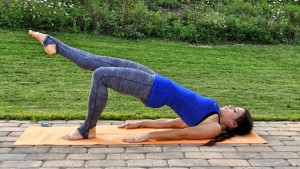 If you want to pair your workout with Yoga, you can pick one of my yoga routines here: https://www.benderfitness.com/category/yoga. I am working on a new collaboration with Sean Vigue. I have had some great workouts with him in the past, and I am excited to film a new one with him.
I hope you all enjoy today's workout!
Melissa
PS You can find me on Social Media: @BenderFitness and on Facebook: @MelissaBenderFitness and Jesse is on Instagram: @BenderCrosby1
PPS If you want to help support BenderFitness so we can get a new camera & new equipment & make our site more sustainable your donation is greatly appreciated: https://www.patreon.com/BenderFitness. 
–Buy a Gymboss now.! Set your timer for 12 Rounds of 30/50.
Help BenderFitness: https://www.patreon.com/BenderFitness
1.       Woodchopper Half Burpee
2.       Jump Kick (right knee up)
3.       Surfer Half Burpee
4.       Jump Kick (left knee up)
5.       V-Up Pushups
6.       Tuck Squat Jump
7.       Kick Backs (right)
8.       Kick Backs (left)
9.       Get Ups (switching feet)
10.   Back/Side lunge (right)
11.   Back/Side Lunge (left)
12.   X-Jump
Repeat 1-3X
Warrior Deadlift: Booty Sculpt Challenge Day 1
Level 1: 10 Reps
Level 2: 15 Reps
Level 3: 20 Reps
Repeat 1-3X