Hi Everyone,
The good news is that I have a new workout for you. The bad news is that it isn't up yet. I am still working on the upload. In the mean time I am posting an alternate workout below. Today's workout is a 15-Minute Full Body HIIT. This routine utilizes alternating strength and cardio/strength moves. The only equipment you need is a chair or a bench for one arm exercise.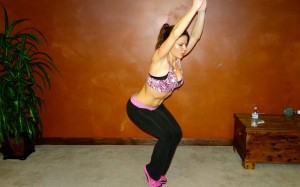 You can do this workout for time (the way I do in the video), complete it for reps, or do a round of each. I like mixing up my workouts between HIIT and repetitions, because both techniques challenge the body differently. Besides, it fun to mix things up.
Challenging your body in new ways will keep it guessing. It prevents stagnation and continues to help you build strength, and endurance. If you try it both ways let me know which technique you found most challenging.
I taught my yoga class tonight. I like to end my classes with a guided meditation to help people relax, re-energize, and focus on the mind, body, spirit connection. I have decided that I need to start incorporating more meditation into my life. I do it sporadically, but I need a consistent practice. I am not normally an anxious person, but the presidential elections this year have had me feeling sick to my stomach. I need to do something to ground myself. Meditation helps us to become more in tune with our bodies and emotions, so that we can choose our response, instead of just reacting to a situation.
I have a new collaboration coming out soon with Sean Vigue. We are filming a new Power Yoga video. I am really excited for it, and I think you will all enjoy the workout.
We have collaborated together in the past. If you want to check out those workouts you can find them here: https://www.benderfitness.com/?s=sean+vigue.
I hope you all enjoy today's workout. I will get the new one posted as soon as I am able to. Also, don't forget to check back (or subscribe to my Youtube channel) for the new Booty Sculpt Challenge Move of the Day.
Melissa
PS You can find me on Social Media: @BenderFitness and on Facebook: @MelissaBenderFitness and Jesse is on Instagram: @BenderCrosby1
PPS If you want to help support BenderFitness so we can get a new camera & new equipment & make our site more sustainable your donation is greatly appreciated: https://www.patreon.com/BenderFitness. 
–Buy a Gymboss now.  Set your timer for 15 rounds of 10/50 Intervals.
You can also do this workout for Reps:
Level 1: 10 Reps
Level 2: 15 Reps
Level 3: 20 Reps
Equipment: Chair or Bench to perform Dips.

1. Superman Lifts
2. Dive Bombers
3. Scissor Leg Lifts
4. Side to Side Squat
5. Squat Jumps
6. Superman Heel Taps
7. Dips
8. Heel Tap Abs
9. Rotating Side Plank Leg Lifts
10. Pulsating Lunge Hops
11. Swimmers
12. Walking Push-ups
13. Temple Tap Abs
14. Chair Pose with Heel Lift
15. Surfers
Repeat 1-3X