Hi Everyone!
It's workout time! Today's workout is a 12-Minute HIIT that will work your entire body. I also posted a cardio video below for an added burn. As always, you can repeat this workout to make it more intense, while having it fit into your schedule.
I posted two cardio workout options below. You can pick the one that is most appealing, or even do all three videos together. I am a day behind on the 30-Day Move challenge, so I will be posting two challenge moves today. I apologize for that, I was not feeling well yesterday & I took the day fully off, and did a whole lot of nothing. I just focused on playing with and taking care of my son.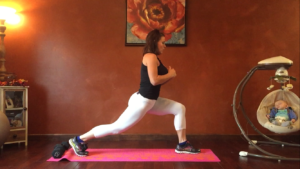 During today's workout focus on form. Form is always important, but I really want you to emphasize it when you use weights. Use a weight that challenges you, but that you can maintain your form with for each exercise. I used two 12-lb dumbbells during this workout.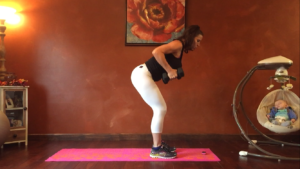 I hope you enjoy this workout! Maverick had perfect timing when I filmed, and woke up for the very end of the workout. I will say, getting in my workouts around his schedule can certainly be a challenge! That is the great thing about having the option of quick workouts. You can make time for 12-Minutes. I only got in one round of this workout, plus a 2-mile walk with the baby, but it was still a good workout. Don't beat yourself up if you can't get in multiple rounds of a workout every day. Just make sure you are doing something!
I will have more recipes to share with you. I will post them as soon as I have a chance!
Melissa
PS You can find me on Social Media: @BenderFitness and on Facebook: @MelissaBenderFitness and Jesse is on Instagram: @BenderCrosby1
PPS If you want to help support BenderFitness so we can get a new camera & new equipment & make our site more sustainable your donation is greatly appreciated: https://www.patreon.com/BenderFitness. 
Equipment: Two Dumbbells + Interval Timer. –Buy a Gymboss now. Set Your Interval Timer for 12 Rounds of 10/50. 
Squat Press
Spiderman Plank
Runner's Lunge Pulse-Right
Runner's Lunge Pulse-Left
Bent Over Row to Fly
Table Leg Press-Right
Table Leg Press-Left
Rock the Boat V-Up
Elbow Tap Side Plank-Right
Elbow Tap Side Plank-Left
Down Dog Hop-Right
Down Dog Hop-Left
Repeat 1-3X
Equipment: –Buy a Gymboss now. Set Your Interval Timer for 10 Rounds of 10/50.
Help BenderFitness: https://www.patreon.com/BenderFitness
High Knees
Mountain Climbers
Burpees
High Knees Lateral Jump
Frog Hopper
Plie Jump
Tuck Jump Burpee
Russian Kicks
Heel Tap Squat Jump
Donkey Kick
Repeat 1-3X
Buy a Gymboss now. Timer Set for 5 Rounds of 10/50.
*Each Section will take 5 minutes. You can pause the video and grab some water in between sections. *
Section 1: Jump Rope Cardio Burn
Jump Rope
High Kness Jump Rope
Jump Rope
High Knees Jump Rope
Jump Rope
Section 2: Cardio Fat Burn
High Knees
Burpees
High Knees
Burpees
High Knees
Repeat 1-3X