Hi Everyone!
Are you ready for a quick workout challenge? Today's workout only takes 15-Minutes Per Round. It is a full body workout, and it requires no equipment. Be sure to warm-up first to maximize the benefits of your workout.
Warm-ups should always be dynamic (moving) to get your blood flowing and get your body ready to work hard. You actually burn more calories and workout at a higher intensity after a warm-up.
I had some more video issues while filming this one, so if you see little editing cuts in the video that is why. The baby woke up, and was a perfect angel while I was filming, but for some reason the video cut out half way through the workout! Technology has not been friendly with me lately, but we are working on our issues. 😉
I have decided that for the rest of the month I am going to do 10 Sun Salutations per day. This morning I got in 5 before my baby needed me, so I am going to do 5 more this evening. You can check out the video here: Traditional Sun Salutation-Surya Namaskar if you aren't sure how to do a Sun Salutation and want to join me in the challenge. That link also has a Fitness Fusion variation on Sun Salutations, but I am just doing the traditional version. It is a great full body routine that focuses on both strength and flexibility. Yoga always reminds me to be more present, and focus on form and the mind body connection.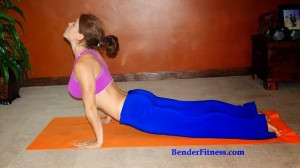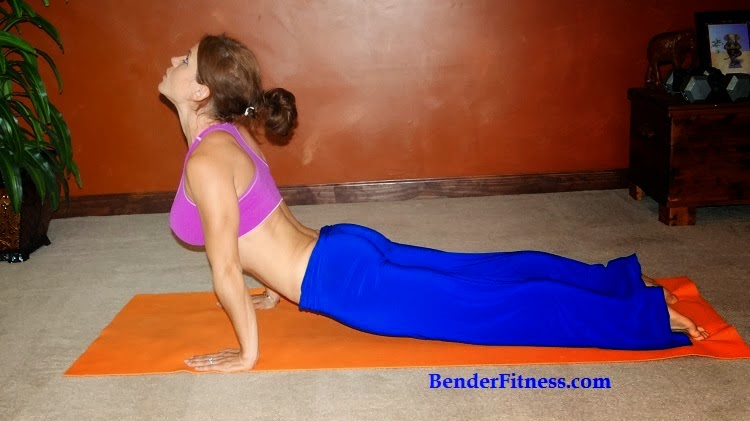 Jesse and I also took Maverick outside for a nice walk this evening. We had a busy day, so it felt great to get outside and move!
I hope you enjoy today's workout! If you haven't checked out Jesse's video on Proper Running Form you can find it here: 6 Tips for Proper Running Form.
See you tomorrow!
Melissa
PS You can find me on Instagram, Twitter, Snapchat and Pinterest: @BenderFitness and on Facebook: @MelissaBenderFitness Jesse is on Instagram: @BenderCrosby1
PPS Don't forget to check out my BodyRock Mom workout series on the BodyRock.tv Facebook page  Live on Monday's at 2 PM. Maverick was a special guest in today's workout, which I did while Baby Wearing.
Buy a Gymboss now. Timer Set for 15 Rounds of 10/50
1. Burpee 0:58
2. Runner's Lunge Lift 1:58
3. Runner's Lunge Lift 2:58
4. Down Dog Lift 3:58
5. Burpees 4:58
6. Side V-Up 5:58
7. Side V-Up 6:58
8. Walking Pushup 7:58
9. Knee Drop Boat 8:58
10. Burpee 9:58
11. Side Lunge Elbow Tap 10:58
12. Side Lunge Elbow Tap 11:58
13. Pushup Jack 12:58
14. Warrior III Chair Squat 13:58
15. Burpees 14:58
Repeat 1-3X
My BodyRock Mom Workout with Maverick as a Special Guest: