Hi Everyone!


Today is an Interval Cardio Day. That means today you are going to work hard, and get sweaty! Are you ready?
Week 3: 
Rest Day
Lower Body-Butt Sculpt Workout + 30-Minutes of Easy Cardio
Core Sculpt (The New Core Workout is Posted) + Moderate Intensity Cardio
Interval Cardio- That's Today!
Arms/Upper Body + Easy Cardio
Rest Day
Full Body Workout + Easy Cardio
I have a few workout options today. My plan is to get in an interval run. I am also posting a Treadmill Option, HIIT workout option & a HIIT + Track Workout option. Be sure to scroll down and check out the different workout options.
Interval workout should be tough, so don't be afraid to push! Let me know how you feel, and what option you chose for an interval workout! I will update this post and let you know which one I end up doing. My plan is to do an interval run.
Melissa
Treadmill Option: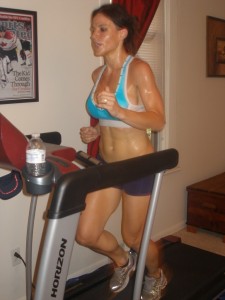 Treadmill Workout Breakdown. ***This workout ranges from a 12 min/mile pace to a 6:40 min/mile pace, you increase by .5 on the treadmill each minute. You can adjust this workout for your own level to make it faster or slower. You can even adjust the length of the intervals, so that you start out doing 30 seconds at each pace, and build up to 60 seconds. Adjust the speeds to your level.***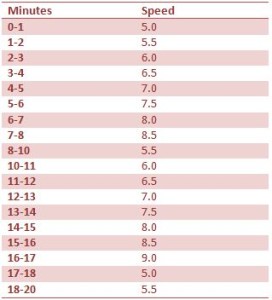 HIIT + Track VO2 Max Workout: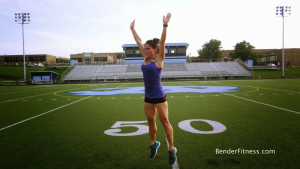 -High Knees (1 Minute)
Jump Rope (or invisible jump rope) (2 Minutes)
-Run (3 Minutes-Harder than race pace)
-Burpees (2 Minutes)
-Mountain Climbers (1 Minute)
-Run (3 Minutes: Harder than race pace)
-Jump Rope (2 Minutes)
-High Knees (1 Minute)
-Run (3 Minutes: Harder than race pace)
Finish with a Cool Down
Bodyweight HIIT Interval Workout:
Buy a Gymboss now. 10/50: 10 Seconds Rest, 50 Seconds Max Reps
1. High Knees
2. Jump Squat
3. Russian Kicks
4. Frogger
5. Mountain Climbers
6. Toe Tap High Knees
7. Side Lunge Jump
8. Lunge Kick (right)
9. Lunge Kick (left)
10. Surfer
11. Mountain Runner
12. Plie Jump
13. Burpee
14. Lunge Jump
15. High Knees
Repeat 1-3X