Hi Everyone!
Are you looking for something healthy and delicious to try out for dinner? This is a simple, healthy, and delicious recipe! It's quick to make & doesn't require a lot of clean up. I love healthy cooking, but I also love recipes that don't take a lot of time to prep. Recipes get bonus points from me when they don't create a lot of dirty dishes. This recipe meets all of the above criteria.
I also like that this dish can be served alone, as a side or paired with a protein of choice. You can easily make it vegan or vegetarian.
Be sure to wash your vegetables before slicing them.
If you like this recipe you may also like: Whole Wheat & Zucchini Noodle Pasta.
If you try this recipe let me know what you think! Tag me in your photos on Instagram or Twitter: @BenderFitness or on Facebook @MelissaBenderFitness.
Enjoy!
Melissa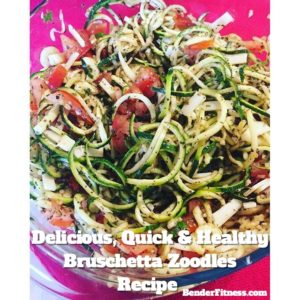 Bruschetta Zoodles
We will be having this with dinner tonight with some baked chicken.
I used a spiralizer to make the noodles.
Ingredients:
4-small zucchini
2 tomatoes diced
2 small cloves minced garlic
2 tablespoons of basil
2 tablespoons extra virgin olive oil
2 tablespoons balsamic vinegar
Fresh ground salt and pepper to taste
Optional: diced mozzarella cheese and 1/4 cup diced onion
* I was out of mozzarella so I diced two slices of Munster cheese. I was out of onion so I omitted it & it's still delicious.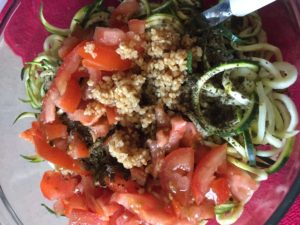 Spiralize the zucchini, and chop veggies and cheese.
Combine all ingredients in a bowl and stir. Refrigerate to allow ingredients to marinate.
Delicious cold, or gently heat in a pan. Great served with cold or warm baked chicken (or protein of choice).
* Don't overcook the Zoodles if you are heating. Zucchini gets soft fairly quickly, so monitor as you heat to ensure you are maintaining the desired texture/consistency.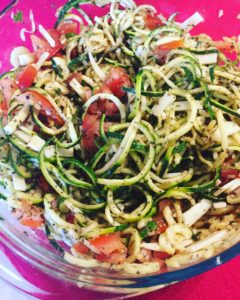 #benderfitness #recipe #brushettazoodles #healthydelicious #veggies #healthylifestyle #quicksimplefoods #vegetables