Hi Everyone!
It's dinner time & I thought you might enjoy the meal I made tonight. I love vegetables & I try to incorporate them into all of my meals.
This meal can be served with or without the pasta. If you prefer to stick to Zoodles (Zucchini Noodles) that's a great option.
The ingredient sizes below are estimates. I was creating the recipe and adding things as I went. Feel free to adjust. I made a large portion so we can have leftovers for lunch.
I hope you enjoy!
Melissa
PS You can also find me on Instagram & Twitter: @BenderFitness and on Facebook: @MelissaBenderFitness
---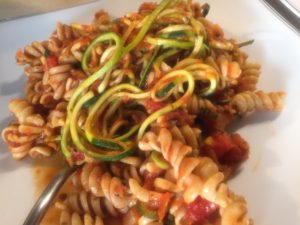 Ingredients: Serves 4-6
Whole Wheat Pasta of choice
Zucchini Noodles (or sliced zucchini)-1 large or 2-3 small
Olive Oil-1 Tablespoon
Minced Garlic-1 clove or to taste
Diced Thin Sliced Onion-1/2 onion
Thinly Sliced Carrot-1/4 cup
Tomato Basil Pasta Sauce- 1 jar
Boil Water & cook pasta according to directions.
Sauté garlic in olive oil. Add onions and continue to sauté until fully cooked.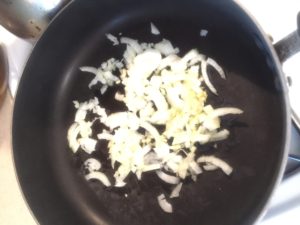 Add carrots. When cooked to desired texture add pasta sauce.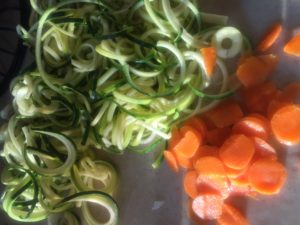 When pasta has about 3 minutes left to cook, add zucchini to sauce. Cook zucchini to desired texture. Mix everything together and serve over noodles, or skip the noodles and enjoy as is!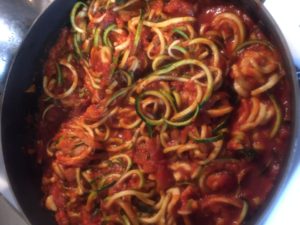 #benderfitness #healthydelicious #colorfulfood #zoodles #pasta #vegetables #fitpregnancy