Hi Everyone!
Welcome to Day 27 of my 4-Week workout challenge! I can't believe we are at the end of the challenge! I have two workout options for you today, or you can complete 1 Round of each workout for a total workout time of 45-Minutes.
Both workouts will get you sweaty, get your heart rate up and challenge you! They are great for sculpting and fat burning. The first workout uses a jump rope (with body weight options), and the second workout uses no equipment.
The first workout combines Jump Rope with strengthening moves. If you don't have a jump rope you can complete high knees, rope less jumping, squat jumps, burpees or another cardio of choice. When you jump rope, you want to focus on keeping your arms bent at a 90 degree angle and maintaining a pace that challenges you throughout. Land from toe to heel, and don't worry to much if you step on the rope. The more you practice the better you will get. Just get right back into it as quickly as you can.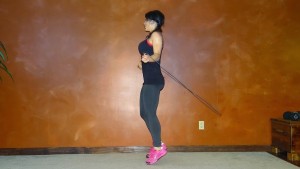 We have one more workout left in this challenge, so be sure to check back tomorrow! Let me know how you are feeling, and if you liked the results you got from this workout & this challenge in the comments below or on Instagram/Twitter: @BenderFitness or Facebook: www.facebook.com/MelissaBenderFitness.
Have fun with today's workouts!
Melissa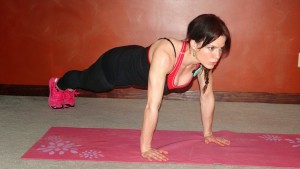 Gymboss Interval Timer set for the Stopwatch function. This workout took me 25 minutes. 
Beginner: 10 reps
Intermediate: 15 reps
Advanced: 20 reps
1. Leg/Hip Lift
-Cardio (50 Jumps over Jump Rope or alternate cardio of choice)
2. Lunge Jumps
-Cardio
Repeat 3X
1. Side Plank Elbow Tap with Hip Lift (right)
-Cardio
2. Side Plank Elbow Tap with Hip Lift (left)
-Cardio
Repeat 3X
1. Side Scissor
-Cardio
2. Frogger
-Cardio
Repeat 3X
Equipment: Gymboss Interval Timer set for 15 Rounds of 10/50. 
1. Single Leg Frogger to Warrior III (right)
2. Single Leg Frogger to Warrior III (left)
3. High Knees
4. In/Out Squat Jump
5. Curtsy Lunge Kick (right)
6. Curtsy Lunge Kick (left)
7. High Knees
8. In/Out Squat Jump
9. Single Leg Hip Thrust (right)
10. Single Leg Hip Thrust (left)
11.High Knees
12. In/Out Squat Jump
13. Table Heel Press (right)
14. Table Heel Press (left)
15. High Knees
16. In/Out Squat Jump
17. Down Dog Heel Press (right)
18. Down Dog Heel Press (left)
19. High Knees
20. In/Out Squat Jump
Repeat 1-3X