Hi Everyone!
Are you ready to work your arms and legs today? I hope so! It's day 24 of my 4-Week workout challenge. If you are just finding the challenge you can hop right in, or start at the beginning with Fit & Healthy Workout Challenge: Week 1 Workout Schedule.
For today's workout combo you will need a couple of dumbbells & a chair or bench. Choose a weight that is challenging to you. Aim for 30-60 Minutes of total workout time today. You can repeat the workouts and/or add 30-Minutes cardio of choice to increase the burn. This jump rope workout is a great option for an added cardio burn: 10-Minute Jump Rope Skipping Workout.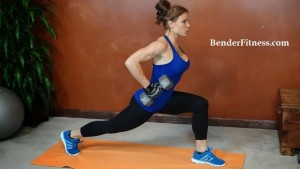 I hope you enjoy today's workout. I taught my boot camp class last night and I am feeling great going into today. Be sure to support your workout with healthy food choices. Your food will fuel your body through the workout, and through your day.
I have dinner in the Crock Pot, and barring any complications I am planning on filming a brand new workout tonight. I am 18-weeks (4.5 months) pregnant today, so you will be seeing some baby bump in the new workout!
I followed a Skinny Taste recipe for dinner this evening. We are having Crock Pot Chicken Taco Chili. I am looking forward to trying it! I am off to work! Have a great day!
Melissa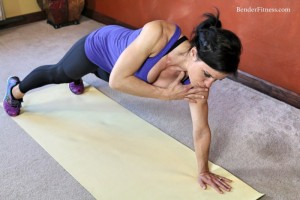 Beginner: 10 reps
Intermediate: 15 reps
Advanced: 20 reps
Equipment: 2 Dumbbells, Chair or Bench
*If you max out during the workout (can not do any more of the exercise with proper form) that's okay. You will see that I max out a few times during this workout. It's a great way to build strength, and to monitor your strength gains when you repeat the workout.
1. Row Lunge (right)
2. Row Lunge (left)
3. Tricep Drop
4. Mountain Pushup
5. Curl (right)
6. Curl (left)
7. Chest Press
8. Tricep Extension (right)
9. Tricep Extension (left)
10. Decline Pushup
Repeat 1-3X
Optional: 30 Minutes of Cardio
Equipment: Gymboss Interval Timer set for 24 Rounds of 10/20.
1. High Knees
2. Sumo Pushups
3. Squat Jumps
4. Walking Pushups
5. Lunge Jumps
6. Single Leg Pushup (Alternating)
7. Plie Jump
8. Shoulder Tap Pushups
9. X-Jump
10. Supergirl Pushups
11. Heel Tap Squat Jump
12. Heel Tap Pushup
Repeat 2X=1 Round
Complete 1-3 Rounds
Optional: 30 Minutes of Cardio