Hi Everyone!

This is workout #27 of my HIIT the New Year Hard Workout Challenge! I asked on my facebook page what everyone wanted to see more of, and many people requested more yoga videos. 

This flow is short, about 20 minutes, but it can be repeated. Yoga is all about balance, so this workout helps tone and strengthen your entire body. Maintaining flexibility in your muscles and joints helps relieve pain and prevent injury.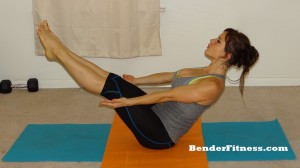 I am a firm believer in the benefits of yoga. I have presented (with three other talented researchers) at the Pennsylvania Occupational Therapy Association conference on the use of yoga to improve self regulation skills in children. Our presentation was also accepted to be presented at the American Occupational Therapy Association conference. I have also presented on the use of yoga to prevent falls, and improve balance in the elderly. Yoga has benefits across the lifespan. 

I still have a new boot camp workout to share with you all. I am hoping to get it posted this evening. I ran out of time yesterday. I am off to work, but I will see you later!
Melissa

Facebook, Instagram or Twitter