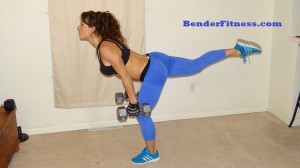 Hi Everyone!

This is workout #26 of my HIIT the New Year Hard Workout Challenge! I hope you're ready for today's workout. This workout might feel easy at first, but it is very effective.

Have you ever wondered what dancers do to get such beautifully sculpted muscles? This workout utilizes ballet inspired moves, and adds weights. This workout combines balance, core strength and full body movements. The addition of weights will help speed up the toning results of the workout. Of course, all of the moves can also be performed with body weight only.

The weights I used in this workout varied between 12-20 pounds. It's important to find a weight that is challenging to you. The focus shouldn't be on the number of pounds, it should be on finding out what is challenging for you, but still allows you to maintain proper form throughout the movement.

I danced all through high school, and was captain of a dance team until 2007. I did everything from ballet, jazz, and tap, to swing dancing. It was fun incorporating a different type of movement into today's workout. It's a very basic combination of ballet and fitness moves. I hope you enjoy it!

I taught a boot camp class last night, so I will be filming and posting that workout for you all. Be sure to check back!

Melissa
Facebook, Instagram or Twitter

The fit fashions in this workout are from www.Affitnity.com Be sure to like their facebook page for the latest updates on sales and new products: www.facebook.com/Affitnity and remember you can always get 15% off with the code BenderFitness at checkout.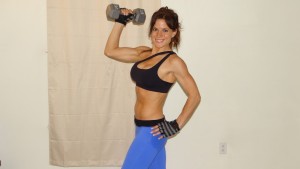 Beginner: 10 reps
Intermediate: 15 reps
Advanced: 20 reps

Repeat 1-3X

1. Front Lift and Press (right)
2. Front Lift and Press (left)
3. 2nd Position Plie Pulse
4. Super Girl Row (right)
5. Super Girl Row (left)
6. 1st Position Plie Pulse
7. Right Leg Lift (basic Arabesque movement)
8. Left Leg Lift
9. Side Lift Pulse (right)
10. Side Lift Pulse (left)

Optional: Pair with 30 Minutes Cardio of Choice