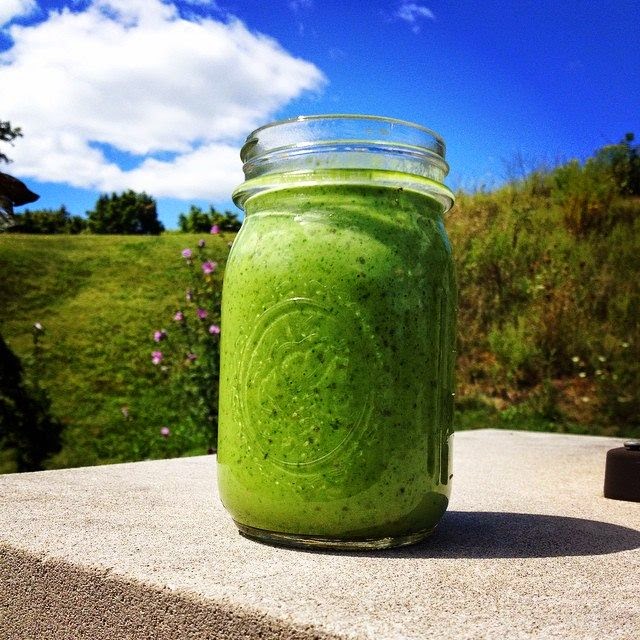 I love smoothies, and hands down green smoothies are my favorites.
They are healthy, delicious, full of vitamins, and you can make them with all kinds of different ingredients. This was my first time using Chia in a smoothie. You can read more about the health benefits of the ingredients used in this smoothie below.
Today's smoothie is simple and filling.
Ingredients:
-1.5 cups Coconut Almond Milk (unsweetened) or milk of choice
-1 tablespoon Chia Seeds
-1/4 raw ripe avocado
-1-2 cups of fresh baby spinach
*Sweetener of choice may be added for extra sweetness.
Place all ingredients in the blender and blend until smooth. It's ready to serve!
If you prefer a smoother texture, allow the chia seeds to soak in the milk for 10-20 minutes prior to blending.
Nutrition:
Calories: 233
Carbohydrates: 14 grams
Fat: 17 grams
Protein: 7 grams
Fiber: 11 grams
Health Benefits:
This smoothie is great for reducing inflammation throughout the body, improving endurance and providing sustained energy throughout the day. It utilizes healthy fats that keep you full and are great for your hair and skin.
Coconut Almond Milk:
This is a low calorie milk alternative with only 45 calories per cup. It is lactose free, and high in vitamins, providing 50% of your Vitamin E, 45% of your daily Calcium, and 25% of your daily Vitamin D intake, among others.
It is also dairy, soy, lactose, cholesterol and gluten free. Some research has shown that coconut milk is beneficial in weight loss, and almond milk helps protect your skin against sun damage and the effects of aging. Additionally, for those sensitive to dairy products, consumption of lactose causes inflammation.
*Look for the unsweetened variety. The one I use has zero grams of sugar. Some of the values above will vary by brand.
Chia Seeds:
Chia seeds improve energy, aid digestion, improve endurance, lower blood sugar, and can assist with weight loss. It is also has powerful anti-inflammatory benefits.
One tablespoon of Chia seeds has 5 grams (20%) of your daily Fiber, 8% of your daily Calcium, 6% of your daily Iron, and 5 grams (2%) of your daily carbohydrates. Additionally, chia seeds have Omega-3 fatty acids.
Historians have stated that Chia seeds were used by ancient Mayan, Incan and Aztec cultures as an energy food, and the production was on par with the production of Maize.
Avocado:
Avocados contain more than 25 essential nutrients. Avocado has been shown to improve heart health, reduce inflammation, lower cholesterol, regulate blood sugar, reduce the risk of stroke and cancer, and increase nutrient absorption (just to name a few!)
The healthy fats in avocado improve endurance during workouts and support cardiovascular health.
Spinach:
Spinach is another anti-inflammatory food. It is low in calories, but high in vitamins and minerals. Most of the calories in spinach come from protein. Spinach is a great source of iron, which directly impacts how efficiently your body uses energy. It is also high in magnesium, which is necessary for energy metabolism.
Spinach is useful for managing diabetes, and lowering glucose levels in the body. Spinach also lowers the chances of developing asthma and can improve your bodies ability to transport oxygen during exercise. It improves bone health and promotes healthy skin and hair. As if that wasn't enough, the Vitamin K in spinach also helps maintain bone health.
Enjoy!
Melissa