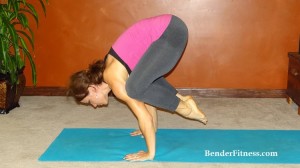 Hi Everyone!

Today is Day 5 of the 30 Day Challenge. On Thursday night's I teach a yoga class, so I got in a great yoga flow today, and exceeded the 15 minutes of exercise for the challenge.

I was planning on filming tonight, but we had a friend stop over so I attached a yoga video that I filmed about a month ago. It's a 30 minute yoga flow, or you can pick on of the 30 workouts listed here that range between 15-25 minutes.

Why do yoga? Yoga promotes flexibility, increased blood flow, decreased chance of injury, and lubricates your joints. Also, depending on the type of flow it can be a great active recovery day from your harder workouts.

Enjoy and get ready for some good workouts this weekend! The challenge continues!

Melissa

PS The check-ins are motivating a lot of people (including me) to participate and stick with the workouts so be sure to keep checking in! You can comment, like, or tag pictures on Facebook, Twitter, or Instagram. I want to know how you're feeling and if you're sticking with the challenge. 🙂
Other Yoga Flows can be found Here.