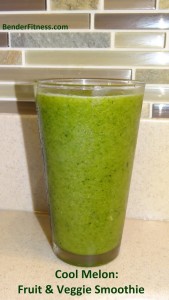 This smoothie is as delicious as it looks! It's refreshing, tasty and sweet. It's also something you can feel good about drinking. I have been having fun experimenting with some different variations of this smoothie. I can't decide which one is my favorite!
Ingredients:
1/2 Fresh Cantaloupe, (medium, cubed)
1/2 Fresh Honeydew Melon (medium, cubed)
3 Cups Fresh Spinach (I used a spinach, bok choy, and swiss chard mix)
1 Cup Fresh (or frozen) Peaches (also delicious with mango or pineapple)
1 glass of ice cubes 
*Optional: For a creamier smoothie add 1 Scoop Vanilla Protein Powder. Jesse loved the taste, but prefers a creamier texture, and the protein made it just right for him. 
-Combine all ingredients in the blender until smooth, or until desired consistency is reached.
I have watermelon sliced and ready to try out tomorrow. This smoothie uses fruits with a high water volume, which assists with hydration and weight loss. This smoothie can also help reduce bloating. 🙂 
Enjoy!
Melissa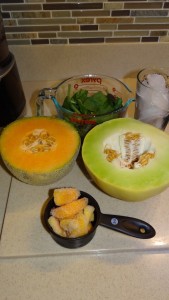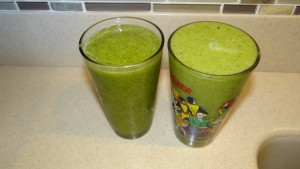 Left: Fruit & Veggie Smoothie, Right: Fruit, Veggie, Protein Smoothie