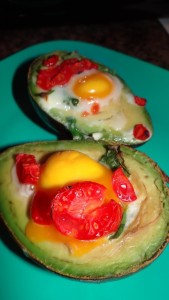 Hi Everyone!
This little gem of a recipe made it back onto my food log today. I tried it yesterday and it was fantastic so I saved the second one for lunch, and scooped it onto my fresh spinach salad. 
Many of you have been asking for the recipe so here it is! Feel free to experiment with toppings of your choice.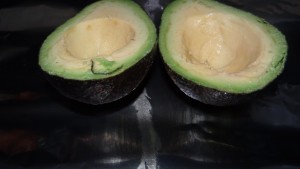 1. Preheat oven to 450 degrees. Cut and avocado in half and remove the pit. Use a spoon to scoop out a bit of extra avocado to make the pocket slightly larger.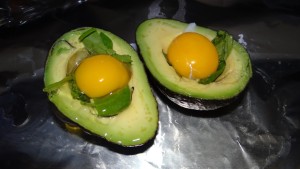 2. Squeeze a bit of fresh lime (lemon works too) over the avocado. Tear spinach leaves (or veggie of choice) into smaller pieces. Top each half with one egg. Optional: Fresh cracked pepper or roasted red pepper would be delicious.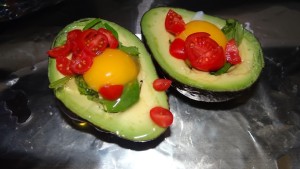 3. Top the egg with sliced cherry tomatoes. Place on a cookie sheet or baking pan. Bake for 12-16 minutes depending on how well you want the eggs to be done.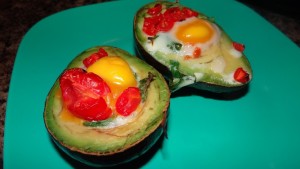 4. Remove from oven and enjoy! I ate the first one right out of the shell, and the second one over a bed of fresh spinach and Roma tomatoes.