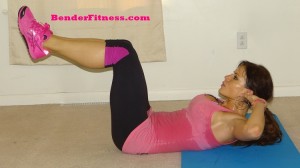 Hi Everyone!

As you can tell from the picture above I definitely got a good workout today! This workout is focused on toning all of the muscles of your stomach/core, while burning fat at the same time.

Let's uncover those strong ab muscles so we can see all the results of the hard work we're putting in. 🙂 The combination of strengthening moves, and cardio intervals will help maximize fat burning, while maintaining lean muscle. This results in a boosted metabolism, and increased firmness and tone throughout your body.

I alternated every other exercise with jump roping. You could also substitute high knees, froggers or mountain climbers if you don't have a jump rope. I was planning on also doing a run, but as I am just recovering from being sick yesterday I decided not to push it. Instead, Jesse and I went on a short leisurely walk, about 1.5 miles.
I hope you all enjoy the workout! See you tomorrow.
Melissa
Beginner: 10 reps, 30 second cardio intervals
Intermediate: 15 reps, 45 seconds cardio
Advanced: 20 reps, 60 seconds cardio

*Timed Cardio Burst between each exercise

1. Situp Crunch
2. Sumo Pushup
3. Heel Tap Leg Lift
4. Side Plank Hip Lift (right)
5. Side Plank Hip Lift (left)
6. Prone Heel Lift
7. Leg/Hip Lift
8. Knee Drop Plank
9. Bicycle
10. Clockwork Plank