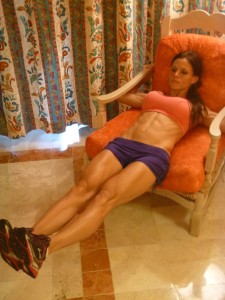 Hi Everyone!
I am back from Mexico. It feels weird to be wearing jeans instead of a bikini! I miss Mexico already, and I haven't even been back for 24 hours. 
I will be posting more about our trip, but here is one of the workouts I did while we were there. I did this one in our room at the Iberostar Paraiso Del Mar. I am a firm believer that you should be able to workout anywhere, whether you have a lot of equipment or not. I am sure you guys knew that already, but it was fun to workout in some new locations. 
There are more videos to come! 
Enjoy the workout,
Melissa
Beginner: 10 reps
Intermediate: 15 reps
Advanced: 20 reps

Repeat 1-3X

1. Low Jump Squat 
2. Shoulder Tap Plank
3. Double Kick Back (right)
4. Double Kick Back (left)
5. Side Plank Twist and Lift (right)
6. Side Plank Twist and Lift (left)
7. Goddess Side Crunch
8. Frogger
9. Leg Lift
10. Russian Kick (50 reps)
11. Butt Lift