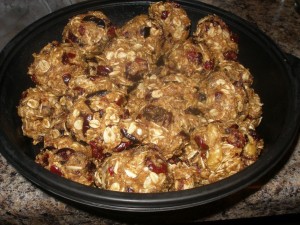 Hi Everyone,
This is a super simple recipe that I found on pinterest. You can check out the original recipe here: Riches To Rags by Dori Of course I modified it a bit (I haven't met a recipe yet that I haven't altered), but it's delicious and quick. I have made these three times, and each time I have done it a little bit differently based on what I have in my kitchen at the time.
Jesse has been obsessed with these, and they are a great energy snack pre or post run. I made them today to share with my yoga class, and I thought it would be nice to share on my blog as well.
There will be a new workout later this evening. So be sure to check back. In the mean time enjoy!
Melissa
Ingredients (makes 20 balls):
1 Cup Dry Old Fashioned Oatmeal
1 Cup Dried Cranberries or other dried fruit
1/2 cup dark chocolate chips ( I actually used about 1/4 cup dark chocolate chips, a tablespoon of sesame seeds, and the rest trail mix for this batch)
1/2 cup ground flax seed
1/3 cup honey
1/2 cup Natural Creamy Peanut Butter
1 teaspoon vanilla extract
I combined all of the dry ingredients, then added the peanut butter and stirred. Add the honey, continue stirring. Add the vanilla and stir until all of the ingredients are coated.
Chill for 20-30 Minutes, roll into balls, and serve or store in an air tight container.
I actually rolled the balls before chilling them, but that was much more difficult (and messy). Enjoy! These make a really delicious snack!