Hi Everyone!
Today's workout is all about the core. It's an intense, 10-Minute Ab routine. It can be repeated 1-3X. This throwback workout was filmed shortly after my first NPC competition. That's still one of my favorite workout series. In fact, I've been considering filming an updated version of that challenge. (Let me know if that is something you would be interested in.)
It is a great 12-Week Workout Series. I challenged myself to compete in an NPC Fitness Competition with only home workouts and healthy eating (no dehydrating, and no super restrictive/low calorie diets).
*This is one of our older workouts, so you will hear Jesse talking in the background. If hearing prompting throws you off, check out our newer workouts. We had mixed reviews on people either LOVING his encouragement and our interaction or finding it distracting.
The Benefits of Core Workouts
I love core workouts because, core strength helps your balance, protects you from injury, and improves your posture. A strong core helps you functionally to be healthy and pain free. We are working the core muscles from every angle, to ensure that we are building functional strength and preventing muscular imbalances.
This routine it quick and challenging, but repeatable. I love pairing core workouts with cardio. Both forms of exercise compliment each other, and if you want more visible abs (which isn't necessary from a functional standpoint, but is still a goal for a lot of people) then you want to combine strength, cardio and healthy eating to optimize your results.
When I filmed this workout, I paired it with a 3.5 mile outdoor run.
Nutrition
I am going to be re-incorporating Anti-Inflammatory Diet principles into my nutrition routine. Lately, I have been feeling very inflamed and I've noticed a lot of swelling in my hands and legs. After taking stock of my nutrition, I haven't been making the healthiest choices. That's not a big deal in the short term, but it's something that I want to address before it has longer term impact on my health and habits.
You can read more about the Anti-Inflammatory Diet here.
Newest Workouts:
I've been focusing on building out my Membership Exclusive Workouts. Eventually I want to get to the point where I am offering half of my new content here for free, and half as membership exclusive workouts. We are currently working our way through the Fit at Home 30-Day Challenge, and last month we completed the 30-Day Confidence Challenge.
If you want even more BenderFitness workouts, I highly recommend checking out the new site! When you join it helps support us to keep sharing workouts.
I hope you enjoy today's workout. Let me know if you had a favorite exercise and what you thought of the routine.
Melissa
Exclusive Workouts & Bonus Content Membership: https://www.MelissaBenderFitness.com
Amazon Storefront: https://www.amazon.com/shop/benderfitness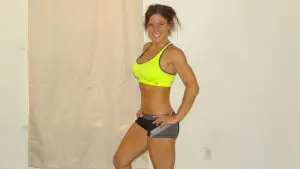 The Workout:

All Levels: Max reps during each 50 second interval, 10 seconds rest between exercise.
1. Right Plank Step
2. Left Plank Step
3. Up Dog/Down Dog
4. Bicycle Abs
5. Toe Tap Situp
6. Cross Plank (right)
7. Cross Plank (left)
8. Bicycle Boat
9. Temple Tap Abs
10. Knee Tap Plank Crunch