Hi Everyone!
It's workout time! I'm so glad you are here with me for today's workout. You will find today's full length workout video and a daily stretching routine below.
For this workout I use a jump rope and a yoga mat. If you don't have a jump rope you can substitute high knees or rope-less jumping for the cardio bursts (or burpees, squat jumps or any cardio of your choice). If you are trying rope-less jumping, just do the jump rope motion without the equipment. We will be doing a variety of plank variations for the strength exercises, so get ready to challenge yourself.
This routine is amazing for your core. It will help build strength and definition and work your core from every angle. It's one of my favorite routine's. I love the strength and cardio combo.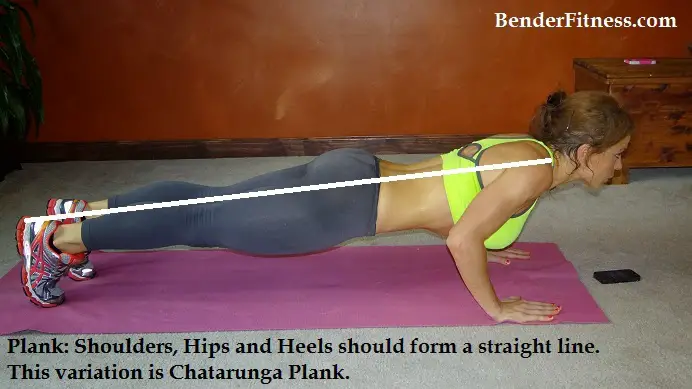 If you get sore wrists during planks you have a few options:
Pushup bars (or dumbbells large and sturdy enough to hold onto during your planks). This helps keep the wrists in a neutral position and decreases pressure through the carpal tunnel.
Modify the movements to be completed from a forearm plank. Again, this keeps the wrists in neutral and a wider surface area is taking the pressure.
Yesterday I shared a recipe for the Best Healthy Creamy Pesto Chicken. Be sure to check that out if you enjoy delicious, healthy recipes. I need to do a grocery run today, and I will definitely be getting everything to make that dinner again.
Subscription Site Coming Soon!
In addition to the free workouts I share here, I will soon have a subscription site for additional workout content you won't find anywhere else. I'm almost done filming the Confidence Challenge, which is a four week workout series that includes workouts and journal/discussion topics to improve your confidence mentally and physically. I will continue to share and build a library of unique workouts there, and I'm so excited to share that with you.
I hope you enjoy today's workout!
Melissa
More Workouts & Link to make a Donation: https://linktr.ee/BenderFitness
Amazon Storefront: https://www.amazon.com/shop/benderfitness
The Workout:
Click the link to get your own Gymboss Interval Timer!
*Plank 50 seconds per exercise, Jump Rope 30 seconds between each exercise. 
The entire routine takes 20 minutes. 
1. Forearm Plank
-Jump Rope
2. Right Side Plank
-Jump Rope
3. Left Side Plank
-Jump Rope
4. Chatarunga Plank
-Jump Rope
5. Rotating Plank (on the forearm)
-Jump Rope
6. Knee Drop Plank
-Jump Rope
7. Plank Jack
-Jump Rope
8. Elbow Tap Plank (right)
-Jump Rope
9. Elbow Tap Plank (left)
-Jump Rope
10. Leg Lift Plank
-Jump Rope
11. Plank Crunch
-Jump Rope
12. Side Plank Hip Lift (right)
-Jump Rope
13. Walk the Plank 
-Jump Rope
14. Side Plank Hip Lift (left)
-Jump Rope
15. Plank Step
-Jump Rope
Finish with this Daily Stretching and Mobility Routine: