Hi Everyone!
This recipe was a huge hit in our house, so I wanted to share it with you. It's delicious, quick, and can be cooked in one pan. Clean up is a breeze. I love one pan recipes because the clean up is so much faster.
My kids loved this chicken so much that they both asked for seconds (that's a major win with a 3 and 6 year old).
I served this chicken with broccoli and 7-grain rice, but you can choose whatever sides sound good to you. Now that I think about it, my Bruschetta Zoodle recipe would probably make a delicious side dish with this meal.
Traditionally, this recipe is made with heavy cream, but I substituted Greek yogurt for a healthier, protein rich addition to the recipe. The results were fantastic. It was still deliciously creamy and it paired perfectly with the pesto.
I hope you enjoy this recipe. Now that I've written it up I need to run to the store and refresh my ingredients so that I can make it again.
More Workouts & Link to make a Donation: https://linktr.ee/BenderFitness
Amazon Storefront: https://www.amazon.com/shop/benderfitness
The Recipe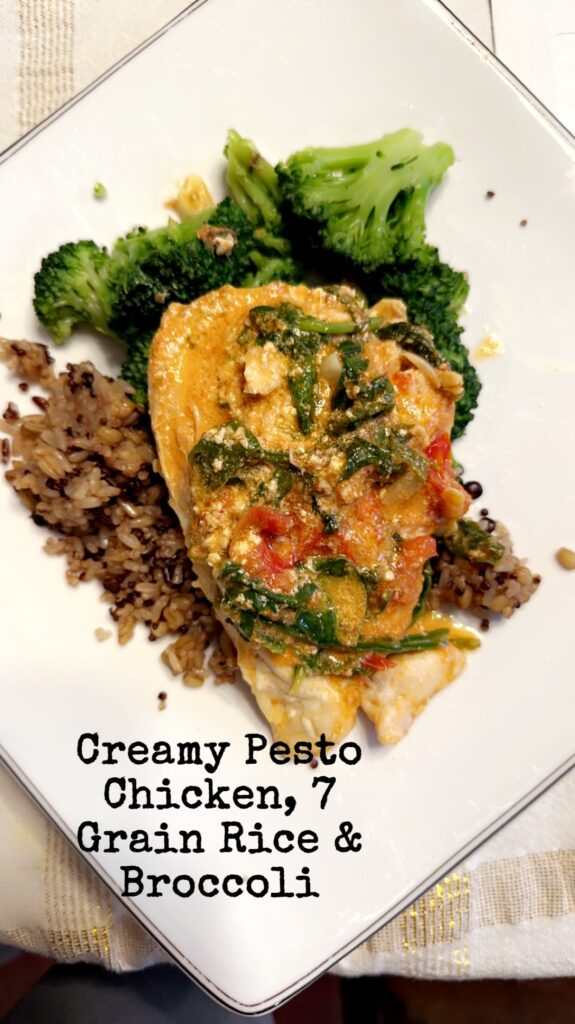 Creamy Pesto Chicken INGREDIENTS: 
Instagram video tutorial: https://www.instagram.com/reel/CtHslTrgJ_e/?igshid=MmJiY2I4NDBkZg==
2 boneless, skinless chicken breast sliced into 4 thinner pieces (or pounded flat for even cooking)
1/8 tsp salt
1/8 tsp pepper 
2 Tbsp olive oil, divided 
2-5 cloves garlic, minced 
1 pint grape tomatoes, sliced in half 
1/2 cup plain Greek yogurt
1/4 cup pesto 
Brown the chicken in a pan over medium high heat (about 5 min per side) in one Tablespoon of olive oil. Salt and pepper both sides of chicken. 
When both sides of chicken are browned and cooked through, add 1 Tablespoon olive oil, tomatoes and garlic.
Cook until tomatoes soften. 
Decrease heat to low. 
Add Greek yogurt and pesto. Stir together in pan. When sauce is heated through add chopped baby spinach and cook until wilted. 
Serve over rice or pasta.