Hi Everyone!
Welcome to today's No Squat, No Lunges Workout. This knee friendly workout routine is focused on the Lower Body, especially the glutes. We will be using dumbbells and a chair. We won't be getting up and down from the mat today, but we will rest our back on the chair for a couple of exercises and use it for balance.
This low impact routine is highly effective. It's great for building strength and sculpting strong thighs and glutes. It's also accessible for people of all fitness levels, and is easier on the knees.
Focus on form for these exercises. Many of these exercises require a flat back to properly activate the muscles we are targeting. Don't worry too much about your flexibility, that will improve over time. Allow your body to move through it's available range of motion on exercises like the Romanian Deadlift, and focus on keeping that flat back throughout the movement.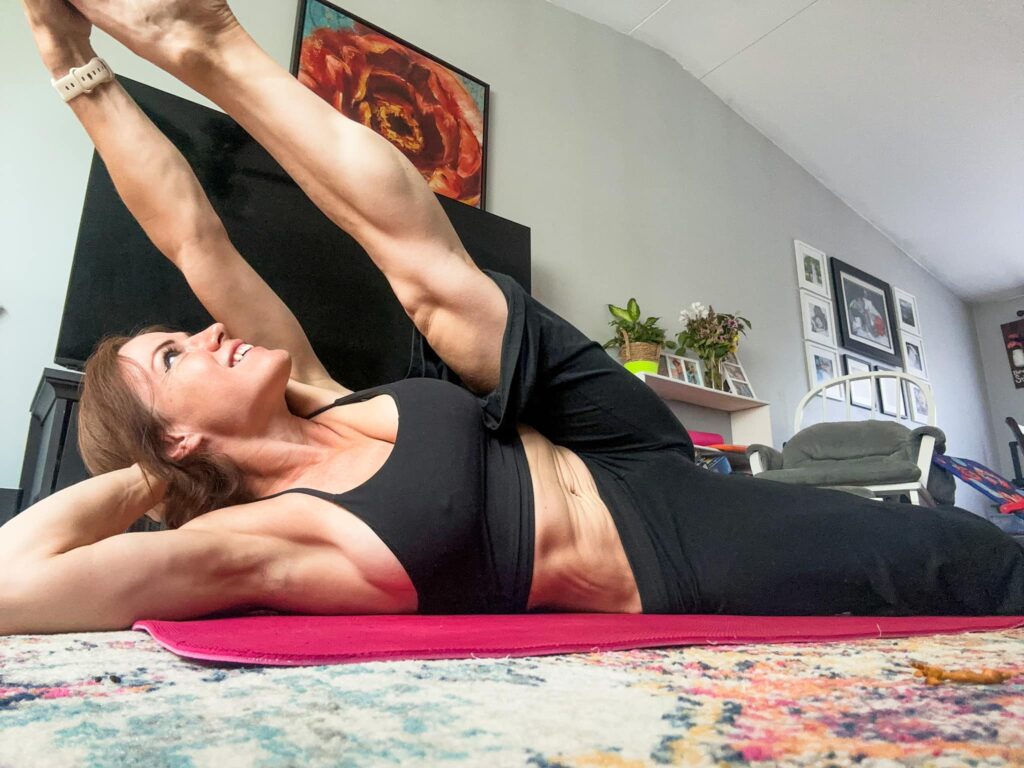 I'm planning on filming a daily stretch/mobility routine. I have been incorporating stretching into my day and it has felt wonderful. I asked on Facebook and Instagram how long everyone would be willing to commit to a daily stretching routine and it seems like 10-15 minutes is the most common answer. If you have an opinion please share your thoughts in the comments. Mobility is very important, and can help keep the body balanced and pain free.
Luckily, most of my workouts incorporate a lot of mobility training, but it's great to incorporate a gentle daily stretching routine that is directly focused on mobility. I've been a certified yoga teacher for more than a decade now, and it's something I really love to share and teach. It also influences a lot of the movement patterns I incorporate into my workouts.
New Subscription Series Progress:
I'm continuing to film workouts for my new subscription workout challenge. I'm very excited to finish up and share this exclusive series of workouts, journal prompts and meditations. I will share some more information as I get ready to launch the new workout series. If there is something special that you would love to see as part of my subscription series, please let me know. During the building and launching stage the feedback of members is going to really help me determine the best direction for subscribers.
I hope that you enjoy today's workout(s). Let me know how it goes! If these knee friendly workout variations are useful for you be sure to let me know and I will create more.
Have fun!
Melissa
More Workouts & Link to make a Donation: https://linktr.ee/BenderFitness
Amazon Storefront: https://www.amazon.com/shop/benderfitness
The Workout:
Interval Timer Set for 12 Rounds of 10/50.
Split Stance Deadlift: Right
Split Stance Deadlift: Left
Pendulum with Leg Rotation: Right
Pendulum with Leg Rotation: Left
Single Leg Glute Bridge: Right
Single Leg Glute Bridge: Left
Romanian Deadlift
Mini Plié Pulse
1/2 Circle Kick Back: Right
1/2 Circle Kick Back: Left
Standing Donkey Kick: Right
Standing Donkey Kick: Left
Repeat 1-3X
Photo Tutorial: