Hi Everyone!
Are you ready for a fantastic full body workout? This home exercise routine is effective. I use a dumbbell for some of the cardio bursts, but you can also complete this workout entirely with bodyweight. No equipment? No problem.
During the cardio burst sections of this workout I alternated between dumbbell swings and high knees. You can pick whatever form of cardio burst you prefer: High Knees, Kettlebell or Dumbbell Swings, Jumping Jacks, Jump Rope, Squat Jumps. You have plenty of options.
If you enjoy this workout, be sure to try my newest Thighs & Glutes: Standing Workout. As always, you will find the full length workout video, photo tutorial and workout breakdown below.
Healthy Eating
I have been refocused on healthy and nutritious meals. Ever since my Business Facebook Page was hacked (11 days ago and counting), I've been very consciously implementing stress management techniques. That has included prayer, meditation, breathing techniques, exercise and healthy eating.
Last night we made tacos, which are always a hit with the whole family. We used ground turkey, onions, peppers, tomatoes, avocado and baby spinach. Quick, healthy and both kids loved them, so that is a household win in my book.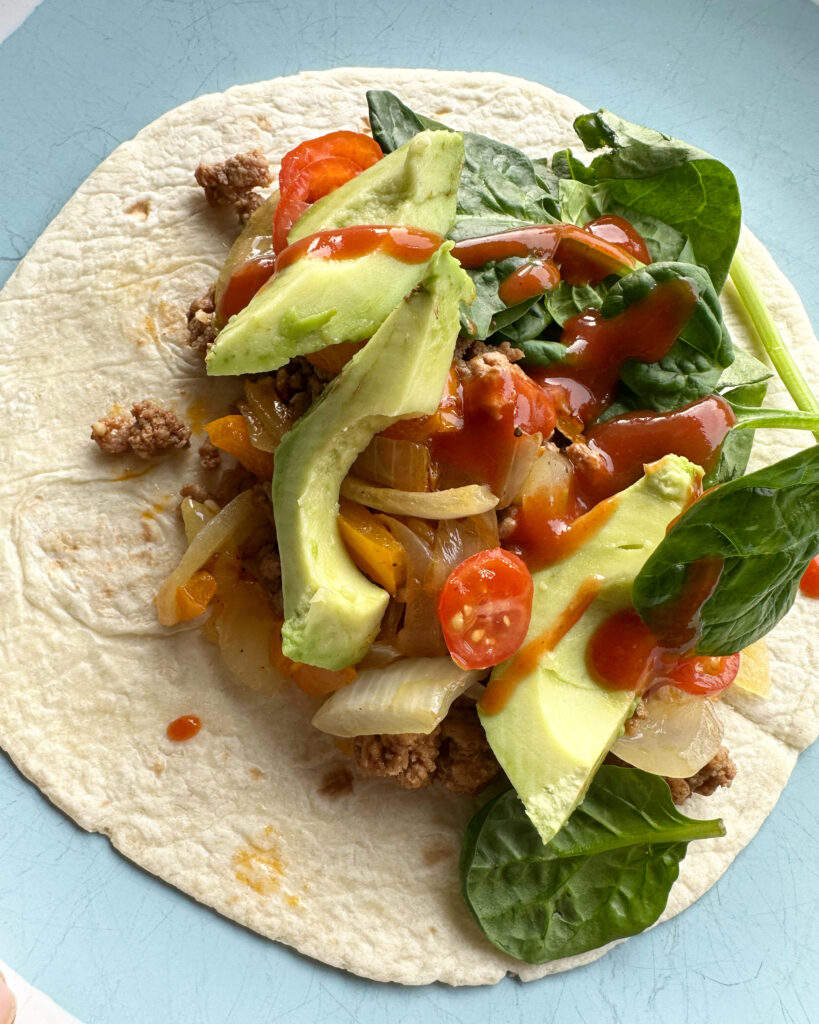 Hacking Update (UPDATE: I got My Page Back!)
As I mentioned above, it's been 11-days and counting since my verified Facebook page with over half a million followers has been hacked and stolen from me. Although I have been in touch with Facebook on a daily basis they haven't actually done anything to help me yet. My state's attorney general sent me an email yesterday to let me know they are attempting to mediate on my behalf with Facebook.
On Sunday night I was able to see the hackers creating and attempting to run ad campaigns on my Facebook page via my hacked Ad Manager account. Thankfully, I was able to go in and delete those campaigns and their stolen payment methods. I am still hopeful that I will get that page back (currently it is just sitting there. The hackers erased 4 years worth of my content that I have shared).
In the meantime I am starting to re-build from scratch, just in case Facebook never gets me the page back. My New (Hopefully Temporary) Page is: http://www.facebook.com/MelissaBenderFit
If you are able to like and follow that page, it would be a huge help to us. Facebook was my biggest platform, and the one I used most frequently. It's where I drove most of my traffic to this page, and the amount of damage this hacking has done to our page (and my reputation) is immeasurable.
Update: I got access to my Facebook Page back! It took 12 days, but I am back in. There are still some restrictions on my account, and it won't let me change the name back yet. I'm sure that will be resolved soon.
I hope that you have fun with today's workout!
Melissa
More Workouts: https://linktr.ee/BenderFitness
Make a Donation via PayPal Here: https://www.paypal.com/donate/?hosted_button_id=X9S4VDNYE8RVU
Amazon Storefront: https://www.amazon.com/shop/benderfitness
Set Your Interval Timer for 10 Rounds of 10/30/10/50
*30-Seconds of Cardio Before Each Exercise*
Low Impact Burpee
Lunge to Hydrant-Right
Lunge to Hydrant-Left
Down Dog Cross Kick-Right
Down Dog Cross Kick-Left
Leg Drop Series
Reverse Plank Step Out
Angel Abs
Side Plank Foot Tap-Right
Side Plank Foot Tap-Left
Repeat 1-3X