Hello Everyone!
I hope you are having an amazing start to your week. Today I have a great throwback workout to start the week strong. This routine will work your entire body, and will take 40-Minutes total. Grab some dumbbells for these exercises, and a mat and you are good to go.
If you don't have dumbbells you can either grab something from around the house to add some resistance to the exercises, or do the exercises with body weight. Each variation will still be effective.
I filmed this workout about 2.5 months after having my second child. It's fun and interesting to me to look back on exercise throughout my life. What I notice most is how things have changed, but also what has remained consistent. Exercise has helped me to feel strong and healthy at every turn. My body has changed and fluctuated with each phase of life, but feeling strong has kept me happy and pain free.
If you enjoy today's workout, you might also love my Total Body Sculpt + 1-Mile Run Workout series: https://www.benderfitness.com/body-sculpt-1-mile-run-challenge-6-week-home-workout-program
Active Weekend Fun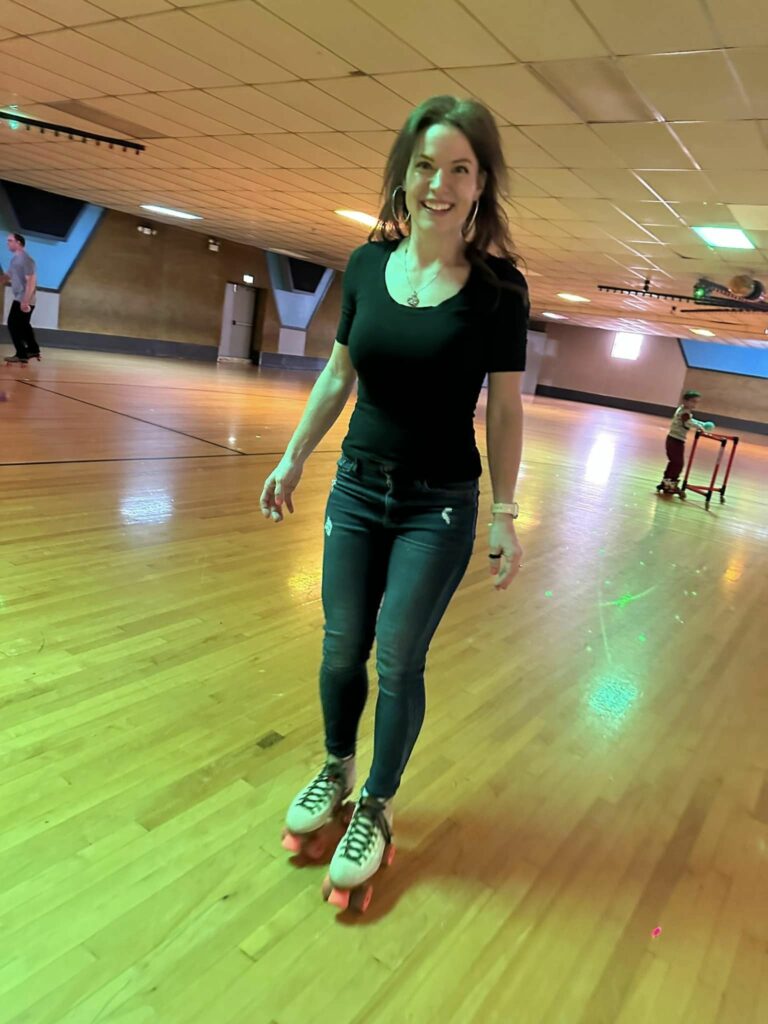 This weekend we celebrated my nephew's 4th birthday at a roller skating party. My sister rented out the rink and we have SO MUCH FUN! I absolutely love roller skating and it's linked with some of my happiest childhood memories. Growing up, every weekend my best friend and I would go to the roller rink. They had weekly races and squat races with a partner and Nicole and I took home 1st or 2nd place every week, and 1st in every squat race (we were partnered for the squat race.) Somewhere in my keepsakes I still have a series of race ribbons.
As an adult it was just as much fun! And both of my kids are begging to go back. My son told me last night that roller skating is one of his favorite things in the world now.
It got me thinking about the things from our childhood that we leave behind, but maybe we shouldn't have. Skating around the rink was pure joy for me yesterday, and there is no reason I can't continue to experience that. Jesse used to play weekly roller hockey games with all of his friends and for him skating brought back all of those great memories and experiences.
What did you love to do as a child that you might still enjoy today? My list is pretty long: roller skating, ice skating, bike riding, singing, creative writing, acting, camping, obstacle/ropes courses, hiking trips.
When I look at that list, all of those things are experiences I can still enjoy today. In fact, they would add joy to my life. What can you add to your life that will bring you joy? Perhaps that's a question we should ask ourselves more often.
Have a wonderful day, and I will see you soon with a new workout.
Melissa
You can find me on Social Media: @BenderFitness and on Facebook: @MelissaBenderFitness Pinterest: Pinterest.com/BenderFitness TikTok: @BenderFitness
If you want to help support BenderFitness so we can keep bringing you new workouts, your donation is greatly appreciated: https://www.patreon.com/BenderFitness.
Shop BenderFitness recommendations on Amazon (we get a small commission, but it doesn't change the price for you!): https://www.amazon.com/shop/benderfitness
Shop BenderFitness Gear: https://my-store-c67ce6.creator-spring.com
Interval Timer: 28 Rounds of 35 seconds Cardio- 50 seconds Max Reps
Squat
Split Squat: Right
Split Squat: Left
Side Lunge: Right
Side Lunge: Left
Surfer
Russian Kicks
Burpees
Lunge Lift: Right
Lunge Lift: Left
Table Taps
Side Plank: Right
Side Plank: Left
Angel Abs
Toe Reach Situp
Surfer
Russian Kicks
Burpees
Lunge Lift: Right
Lunge Lift: Left
Alternating Curl
Tricep Extension
Weighted Cactus
Warrior III Row: Right
Warrior III Row: Left
Low Jacks
Pendulum Squat: Right
Pendulum Squat: Left