*This post may include affiliate links. We will earn a commission through any orders placed through the links, but it won't change the price for you.
Hi Everyone!
Grab some dumbbells and great ready for a quick, but fantastic and effective workout. One round of today's workout will only take 10-Minutes. So do it once, or repeat it for a longer more intense workout. I
I only went through this workout once, but I also took a 45-minute martial arts class earlier in the day. I definitely plan on repeating this workout and aiming for 3-rounds. I have to admit, even one round of this workout got my legs sore. So I definitely need to incorporate more weight training into my workout routines.
Jesse has a fun weighted workout that we will be filming and sharing with you soon. If you have any other workout video requests please let me know in the comments below.
I have to admit, I wasn't very enthused when it was time to film this workout. Not because of the workout (it's great!), but I was feeling really bloated and tired. It took a little extra mental effort to convince myself to show up and get on camera, but I'm glad I did. I felt so much better after getting in a good workout.
Martial Arts Update: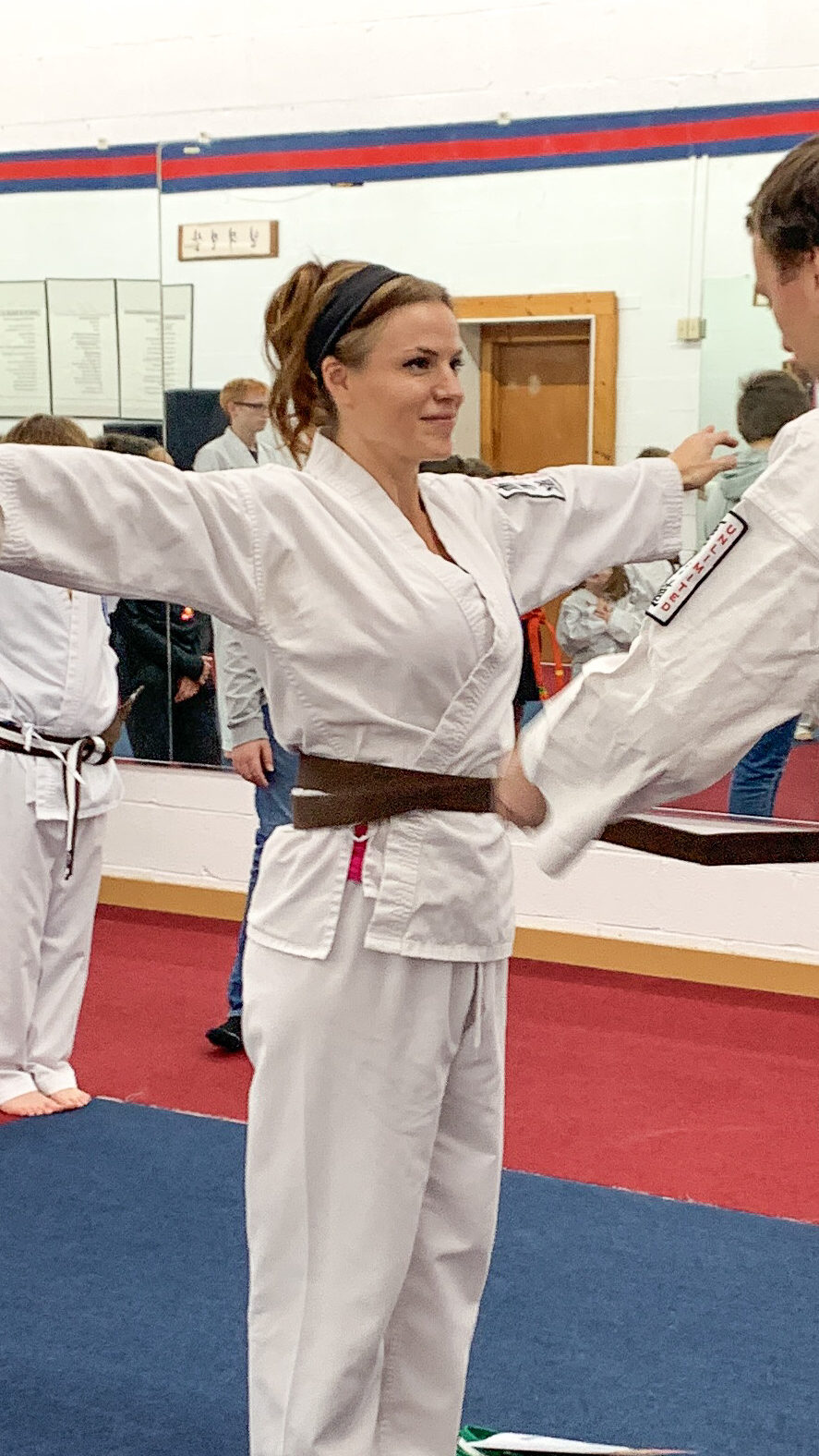 Photo from my recent promotion to Brown Belt in Tang Soo Do.
As of November 2022, Jesse and I are both brown belts, and our son is a yellow belt. It's been fun to learn and practice these skills as a family.
I'm currently working on my back wheel kick (also called a spinning back heel kick) along with forms, self defense and other skills.
It's a fresh area of learning and fitness. As you can tell by the 1000+ unique workouts I've shared here, I enjoy learning and trying new things.
Setting Healthy Boundaries: Helpful Reading
In the yoga class I teach, one of my favorite discussion topics is: honoring your needs by developing healthy boundaries. I recently read a great book called Set Boundaries, Find Peace by Nedra Glover Tawwab. I found it to be a very useful and accessible book. The advice was helpful and direct, and it included lot of exercises to implement each topic area.
If this is an area that speaks to you, I definitely recommend checking out this book. Even when it comes to physical health and setting aside time for your workouts it's important to have boundaries in place so that you can prioritize your own health. Many people struggle to make time for self care due to boundary issues. (Boundaries aren't the only challenge in creating a routine for your health, but it's one area that a lot of people struggle with.)
If you have any great reading recommendations to share, please do so in the comments. I'm an avid reader and I enjoy books from almost every genre.
Have fun! I will see you soon with a new workout soon! I hope you've been enjoying the new content and workouts I've been sharing.
Melissa
You can find me on Social Media: @BenderFitness and on Facebook: @MelissaBenderFitness Pinterest: Pinterest.com/BenderFitness TikTok: @BenderFitness
If you want to help support BenderFitness so we can keep bringing you new workouts, your donation is greatly appreciated: https://www.patreon.com/BenderFitness.
Shop BenderFitness recommendations on Amazon (we get a small commission, but it doesn't change the price for you!): https://www.amazon.com/shop/benderfitness
Shop BenderFitness Gear: https://my-store-c67ce6.creator-spring.com
Row, Row, Squat
Wide Leg Side Lunges (Alternating)
Overhead Press to Romanian Deadlift
Goddess Elbow Tap
Kneeling Leg Curls: Right
Kneeling Leg Curls: Left
1/2 Burpee
Knee Drop Boat
Down Dog Weight Slide
Cactus Squeeze
Repeat up to 3-5X