Hello Everyone!
Welcome to a brand new week. Let's all send some positive thoughts toward this week being better than the last! Below you will find the full length workout video for an amazing full body workout. This routine uses some of the best exercises for your entire body, and several unique exercise moves that will challenge you (in a good way!) to build strength and mobility.
We are using cardio and strength building intervals to maximize this workout. It's a great burn that will help you build lean muscle mass at the same time. We are also working on our overall mobility to keep our joints and body healthy and happy.
Life Update…The Struggle has been Real:
I don't know about you, but the last month and a half has hit our household hard. It felt like a 1-2 punch with a spinning back kick follow up. My husband had three surgeries and was in the hospital for complications from the first surgery. He is doing great now, thankfully! Last week my son was diagnosed with pneumonia and a double ear infection, and now I am pushing through a sinus infection.
I am desperately looking forward to everyone in our household being healthy and having energy again. It has felt a bit like we have one day of normalcy followed by weeks of illness.
I made a commitment to getting back into the flow of filming and sharing new workouts, and that has certainly been a struggle lately, BUT I've been able to film a lot of shorter workout tutorials to share on Pinterest. Eventually, each of those tutorials will be part of a longer, full length workout that will be shared here. So there is still a grand plan, everything has just fallen behind the health and wellness of my family (and managing our other jobs).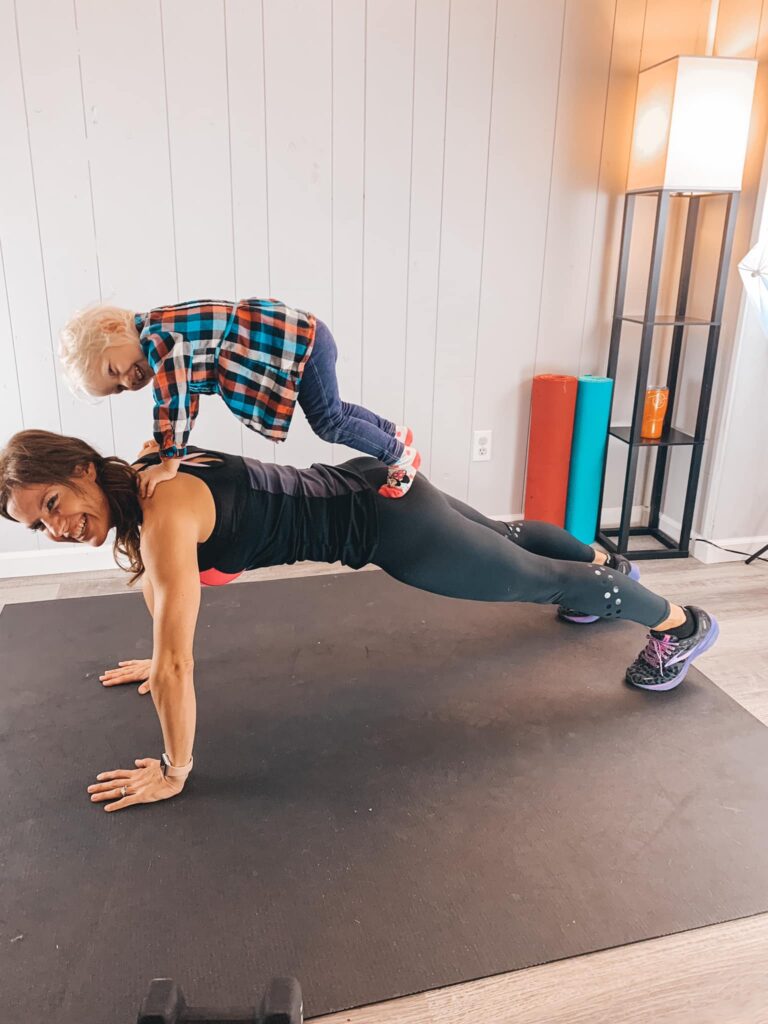 I hope that my life update didn't bring anyone down. I really try to keep things positive here, because there is so much struggle in the world. It's nice to have someplace to show up and focus on building health and joy. But I also want everyone to know that even when things get hard, even when you need to take a break or a step back, your health is worth working on. The important thing is that you come back to the workouts. That you recognize when other things need your attention, but you also remember that your health and fitness impacts everything that you do. It's the reason that you keep coming back and putting in the work, whether it's a 10-minute HIIT or a 60-minute yoga flow, it all counts.
My work involves teaching kinesiology classes that have a physical activity component so I do have some exercise routinely built into my week even when things get crazy, but I feel so much better when I get in daily movement.
What inspires you to move when your life gets crazy? Share with me in the comments. You never know who you might inspire.
See you soon!
Melissa
You can find me on Social Media: @BenderFitness and on Facebook: @MelissaBenderFitness Pinterest: Pinterest.com/BenderFitness TikTok: @BenderFitness
If you want to help support BenderFitness so we can keep bringing you new workouts, your donation is greatly appreciated: https://www.patreon.com/BenderFitness.
Shop BenderFitness recommendations on Amazon (we get a small commission, but it doesn't change the price for you!): https://www.amazon.com/shop/benderfitness
Shop BenderFitness Gear: https://my-store-c67ce6.creator-spring.com
Interval Timer: 21 Rounds of 35/50
Side to Side Hop and Reach
Speed Skaters
3-Point Forearm Plank Taps
Reverse Plank Hip Taps
5-Star Froggers (Frogger to Superman)
Kneeling Leg Lift to Runner's Lunge: Right
Kneeling Leg Lift to Runner's Lunge: Left
Cat Bow/Knee to Nose: Right
Cat Bow/Knee to Nose: Left
Rotating Chair Pose
Warrior III Pulse: Right
Warrior III Pulse: Left
Staggered Leg Hip Tilt: Right
Staggered Leg Hip Tilt: Left
Frogger Forward/Back Burpees
Down Dog to Dolphin
Crossed Leg Lifts
Single Leg Glute Bridge: Right
Single Leg Glute Bridge: Left
Thoracic Reach Through
Prone Cross Step
You can repeat this workout for a total of 2 Rounds if you want a longer workout.