Hi Everyone!
Welcome to today's Full Body, 40-Minute, No Equipment Workout. This is a fantastic exercise routine and it incorporates some of the best compound exercises to maximize your home workout routine.
During this workout I incorporate cardio intervals. I choose high knees, but you can substitute marching in place for a lower impact option, or amp up the intensity by doing jump rope burpees or another exercise of choice. If you are just starting out on your fitness journey you can also choose to rest during the cardio intervals.
Remember, any workout can be modified to suit your needs. If you are being challenged, and feel that you are working at moderate to high intensity than you are in the correct zone to improve your strength and fitness. You will find the full length workout video and photo tutorial for each exercise below.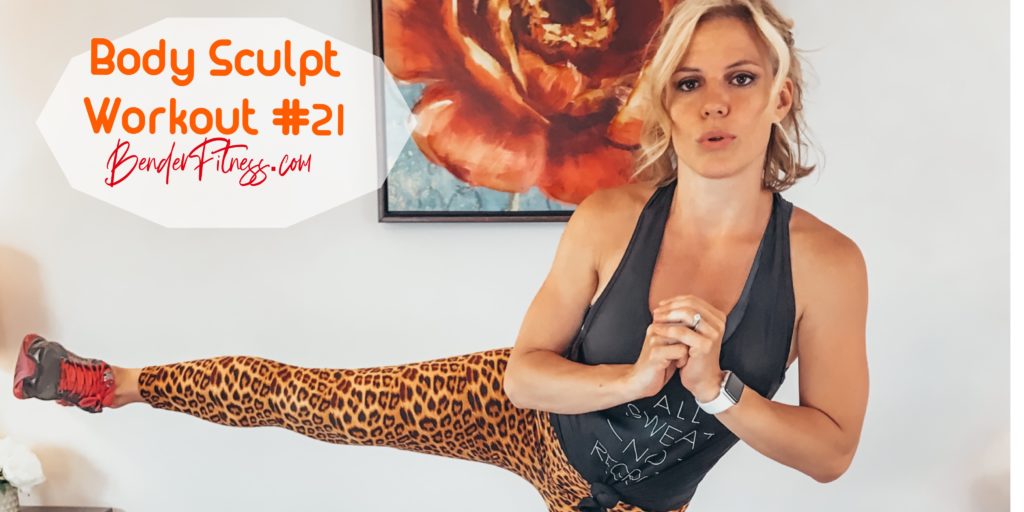 New Workouts:
I have more new workouts coming. I hope you enjoyed the two new workouts I posted last week. If you haven't tried them yet, you can find them here: https://www.benderfitness.com/2022/04. I had an unexpected delay for new workouts because 75% of the screen on my Mac stopped working. I am not sure how long the repair will take, but in the meantime I will either film some Live workouts or do some very basic editing on my I-pad.
While situations like faulty electronics are very frustrating, I keep reminding myself that it's a small issue in the long run. I hope that you enjoy the workout I selected for today. It's a great exercise routine.
Let me know what your favorite workout move was from this video, and if you like longer workouts like this one, or shorter workouts that you can repeat or stack based on how much time you have that day.
I like both workout styles, but as a working mom of two young children I often find shorter workouts to be more functional for my current lifestyle and situation. For me, a short workout keeps me feeling better than no workout at all.
Have fun today! Don't forget to let me know what you thought of this workout!
Melissa
You can find me on Social Media: @BenderFitness and on Facebook: @MelissaBenderFitness Pinterest: Pinterest.com/BenderFitness
If you want to help support BenderFitness so we can keep bringing you new workouts, your donation is greatly appreciated: https://www.patreon.com/BenderFitness.
Shop BenderFitness Gear: https://my-store-c67ce6.creator-spring.com
The Workout:
Set your interval timer for 28 Rounds of 30/50.
30-Seconds cardio of choice in between each exercise.
Low Impact Jacks
Lunge to Figure 4: Right
Lunge to Figure 4: Left
Squat
Toe Touch Pushups
Elbow Tap Side Plank: Right
Elbow Tap Side Plank: Left
Super Swim
Reverse Plank Leg Lift
Plié Reach: Right
Plié Reach: Left
Runner's Lunge Lift: Right
Runner's Lunge Lift: Left
Temple Tap Abs
Raised Leg Adduction: Right
Raised Leg Adduction: Left
Angel Abs
Tricep Pushup: Right
Tricep Pushup: Left
Sumo Pushups
Scapular Squeeze
Warrior III: Right
Warrior III: Left
Goddess Twist
Pendulum Squat
Heel Tap Abs
Crunching Side Plank: Right
Crunching Side Plank: Left